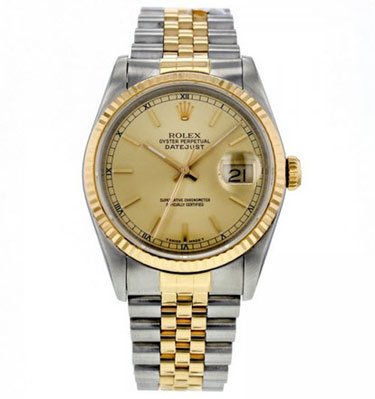 Matt Meltzer wore expensive watches (rented from this company) on several different occasions, and found that people treated him "wayyy differently."
Many long years ago, an art dealer friend from Yale asked me to accompany him to look at a collection, pretending to be a wealthy interested collector. (I forget exactly why bringing along a ringer was desirable.) Before we departed for the meeting, my fashion-plate art dealer friend looked me over, decided my contemptibly ordinary Tissot wristwatch would never do, and hurriedly lent me a solid-gold Corum to wear.
My poor old Tissot finally died of old age, I replaced it, and the next one died as well after about a year. I bought a Timex, but I didn't much like it, and it died even quicker. Going to a watch dealer to get new batteries put in constantly seemed to be a nuisance, so I decided finally to buy a better, more durable watch. I was also really sick of scratching watch crystals and needing to get them replaced. An expensive watch commonly has a practically-indestructible artificial sapphire crystal.
My choice (pictured above) was perhaps boringly conventional. I bought the gold-and-steel version of the Rolex DateJust with the Jubilee band.
Rolexes are sport watches, which you can wear doing manual labor and outdoor sports. The gold raises the watch's formality just enough that the same watch is also perfectly appropriate for formal evening wear. With this model, one only needs one watch.
Once I started wearing my Rolex, I began noticing covert wrist glances from other people at business meetings and social occasions, and before long I found myself also taking other peoples' wristwatches as a strong clue to each individual's professional and social level, overall affluence, and adult sophistication. Wear that Rolex or Girard Perregaux, and you will catch new acquaintances making small facial expressions of approval after that covert questioning glance at your left wrist.
When you reach a certain point of middle-age, not owning a real watch, i.e. an expensive name brand watch, tends to suggest that you have never at any one time had a whole bunch of free cash and/or that you are some kind of Puritanical hippy with an ideological thing about high-end consumerism.
Pari passu, wearing too complicated a watch tends to make your viewing audience suspect that you are a Walter-Mitty fighter pilot/racing driver wannabee. Wearing a truly hideously expensive watch avec complications tells people you are a deranged watch collector who probably has a hedge fund. A watch is a form of self-expression that requires some exercise of personal judgement and taste.
I must confess, though: Watch prices have gone up so much that I would never ever buy my Rolex today.