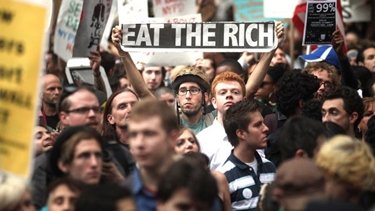 Lawrence Myers explains the dynamic that makes people become grievance-afflicted members of the crowds demonstrating against the financial industry.
Unhappy people become Liberals. People seek out those that are similar. Birds of a feather flock together. An unhappy person looks around and sees two groups: happy people, and unhappy people. Rather than take a page out of the former group, enter the herd and ask for (and likely receive) help and guidance on how to become happy, the person is more likely to choose the path of least resistance — of instant acceptance. "Come to Mumsy, darling, you're one of us." And once in the herd, it becomes very, very difficult to leave it.

The Liberal, of course, will deny this pathology. No, they say, they are only trying to make things fair. Liberals are consumed with fixing the world. By eliminating what is unfair, by eliminating the evil banks and the greedy corporations, all the little people will receive what is rightfully theirs! (Subconsciously, then, nobody will be more successful than they are.) So twisted with hate, and so convinced of their own inefficacy, they cannot even rely on themselves to overthrow The Other. They hand over their own power to a third party — the government — to do their dirty work in the form of the confiscatory process of increased taxation and regulation.

Liberals, however, have got it turned around. They seek to heal the world before healing themselves first. They see this as somehow noble, great sacrifice. Well, it's easy to make a sacrifice when you regard yourself as valueless. Beyond this, however, every major religion, and the mythology across almost every culture, instructs man to take care of himself first, and then attempt to heal the world.
———————
Should you be attending? Quick diagnostic chart.