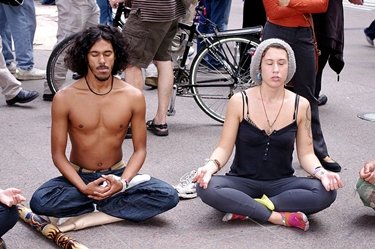 Bookworm saw all the Powerbooks and iPads buzzing down at Occupy Wall Street, and reflected that these young people's problem doesn't consist of material poverty in the traditional sense. They were badly educated and their problem is intellectual and moral poverty combined with a weak grasp of reality.
[T]here's the sense of poverty created by utterly ludicrous expectations. We promised these kids that they were all "good enough, smart enough and, gosh darn it!, that everyone would like them." We promised them that they were all number one, and that they would never need to make any actual effort to achieve that blue ribbon status. We taught them, through MTV and computer games, that a 3 minute attention span is sufficiently long to be awesomely cool and win the game. And, God help us, we taught them that a Womyn's Studies, or Africana Studies, or GLBT Studies, or Oppressed People's degree from some big name university would assure them the kind of job that would enable them to pay off $25,000 or $100,000 or even $250,000 in student loans. We, the older generation, created this wealth of stupidity.

These young people also suffer from a vast intellectual and moral poverty. One of the things that shines through when we interview the people taking to the streets is that so many are woefully ignorant, and that they wallow in a sea of relativism that allows for no morality other than that gained by intense navel gazing. They are the antithesis of the original American revolutionaries, whose leaders were men of exceptional erudition and thoughtfulness, and whose followers knew at the very least their Bible and Pilgrim's Progress. Revolutionaries of old were shaped by philosophy, known science, literature, practical life experience, and a deep sense of morality and justice. Today's little park piddlers are shaped by an aching sense of unfairness, a terrible fear of human-kind (that would be the AGW shtick), and a morality shaped by Oprah and whichever fabulously rich Hollywood Leftist happens to grab the microphone on any given day.

These self-styled 99%-ers are not poor, not by any known standard, either today or in the history of the world. They are intellectually and emotionally bereft, but otherwise awash in material benefits.