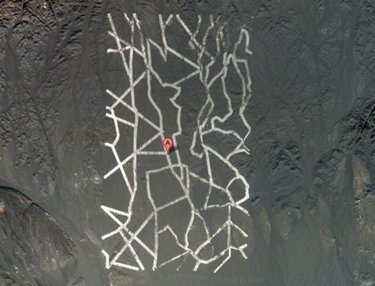 Click on image for Google maps
Wired wonders aloud what the rulers of Red China can possibly be building in one of the world's most remote locations.
It is probably not going to be a recreational theme park.
—————————
New photos have appeared in Google Maps showing unidentified titanic structures in the middle of the Chinese desert. The first one is an intricate network of what appears to be huge metallic stripes. Is this a military experiment?

They seem to be wide lines drawn with some white material. Or maybe the dust have been dug by machinery.

It's located in Dunhuang, Jiuquan, Gansu, north of the Shule River, which crosses the Tibetan Plateau to the west into the Kumtag Desert. It covers an area approximately one mile long by more than 3,000 feet wide.

The tracks are perfectly executed, and they seem to be designed to be seen from orbit.
——————————————-
See comments: Reliapundit thinks he knows what it is.
Nov. 15: The Daily Mail has more pictures of more things.