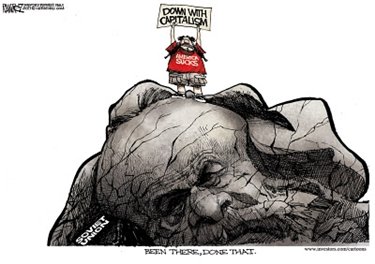 James Taranto deconstructs the Occupy protest movement and concludes that the movement's lack of rational goals and legitimate grievances is symptomatic of the position of the left in general. The left wants attention, the left wants to make a noise, but the left hasn't actually got anything to say. Taranto asks: "[W]ith the exception of same-sex marriage, can you think of a single new idea that has come out of the left since Lyndon Johnson was president?"
"They paused to scream at the walls of a Citibank branch."

To our mind, that sentence more than anything we've read encapsulates the spirit of Obamaville. It originally appeared in a San Francisco Chronicle story about an incident in which "dozens of college students" invaded a Bank of America Branch, "pitching a tent and chanting 'shame, shame' until they were arrested." (The original Web version of the story is available here.)

What do we want? Uh . . .

On the way to B of A, they paused at Citi to scream at the walls. These are college students, acting like 2-year-olds throwing a tantrum. What does that tell you about their critical thinking skills–and about the standards of American higher education? The likes of the New York Times expect us to take such incoherent spasms of rage seriously as a political "movement." What does that tell us about the standards of the liberal media?
Read the whole thing.