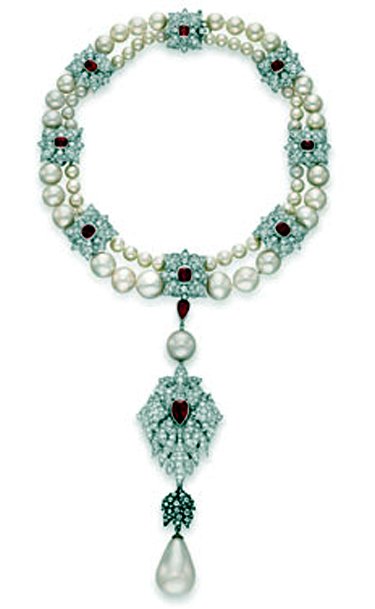 La Peregrina 16th century natural pearl; diamond bail early 19th century; natural pearl, diamond, ruby and cultured pearl necklace by Cartier 1972, formerly the property of Phillip II of Spain and his Spanish successors 1500s-1808, Joseph Bonaparte, Louis Napoleon, the Duke and Duchess of Abercorn, and Elizabeth Taylor.
Tomorrow night, at Rockefeller Center, Christie's will be selling as the 12th lot of the Collection of Legendary Jewels Belonging to Elizabeth Taylor, the "La Peregrina" Pearl, one of the oldest and best-documented historical jewels.
La Peregrina, possibly the most valuable pearl in the world and certainly one of the absolutely largest (more than 50 carats) natural pear-shaped pearls ever recorded, was found near the island of Santa Margarita in the Gulf of Panama by an African slave sometime in the early to mid-16th century.
The story is that the pearl came from an oyster so small that its finder nearly did not bother to open it.
The Governor of Panama, Don Pedro de Temez, acquired the treasure and rewarded the slave with his freedom for finding it.
Temez presented the enormous pearl to King Phillip II of Spain who gave it to Mary I of England at the time of their marriage in 1554, but it returned to the possession of the Spanish crown after her death in 1558. It was one of the favorite and best-known pieces of the Spanish crown jewels, and is visible in portrait after portrait of Queen Consorts.
After Richard Burton bought it for $37,000 at a Sotheby's sale and presented it to Taylor as a Valentine's Day present, it fell into the jaws of one of the actress's Lhasa Apsos. 2:33 video
The probable sales price, despite the economic times, will confirm just what a good investment Burton made.
Hans Eworth, Mary I of England, 1554, National Portrait Gallery.
Unknown artist, Mary I, National Portrait Gallery.
Diego Velázquez, Retrato ecuestre de Isabel de Borbón, 1635-1636, Prado Museum.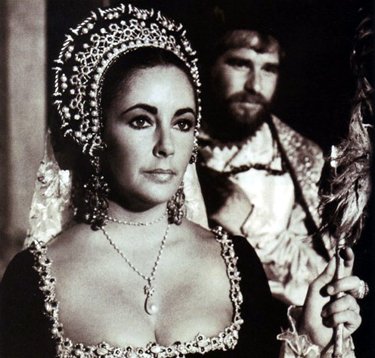 Elizabeth Taylor wore "La Peregrina" in an uncredited cameo appearance in "Anne of a Thousand Days" (1969).
———————————-
UPDATE, 12/14: La Peregrina sold for the world record price of $11,842,500. Yahoo News