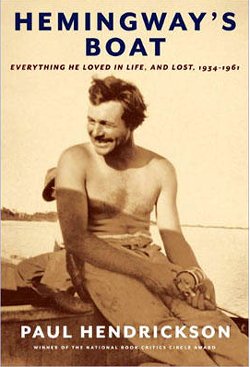 The best new book I've read this year was Paul Hendrickson's Hemingway's Boat: Everything He Loved in Life, and Lost, 1934-1961
.
Ernest Hemingway was not only the generally recognized greatest American writer of fiction of his time, Hemingway seemed to have deliberately crafted his life to parallel and underline his art, emphasizing and exemplifying the same themes of manliness and confronting the same life and death questions. Hemingway became thusly, not only the great novelist, but a code hero, the equivalent of Achilleus or Beowulf as well as Nick Adams, in his own right.
When the great man, at 7 AM one July morning fifty years ago, crept out of bed, found the key to the closet where his wife Mary had locked away his firearms, took out his Boss best-grade double-barreled 12 gauge, inserted two rounds of high brass number 6s, braced the gun butt on the floor of his house's foyer, placed his forehead against the barrels, and reached down and fired both barrels, Hemingway's vast audience of readers and admirers experienced an international catharsis as the epic suddenly concluded and the curtain came down the tragedy.
Paul Hendrickson takes Hemingway's 38-foot Wheeler cabin cruiser, the Pilar, built for him in 1934, as the metonymic focus and symbol of the final 27-year 3-month trajectory of the author's literary career and life.
Few great writers have received such a tribute, featuring massive and intensely focused research (Hendrickson can lovingly describe the details of the room where Hemingway used to stay in the Ambus Mundos Hotel as well as tell you which models of Vom Hofe and Hardy reels he fished); ground-breaking criticism (Hendrickson argues very persuasively that it was Hemingway, in Green Hills of Africa
(1935), who invented the non-fiction novel, not Capote or Mailer thirty years later); or anything like this sympathetic and deeply personal tribute in finely crafted prose worthy of its own subject.
In the final analysis, Hendrickson is writing to explain and to defend Hemingway's crack-up, all the famous outrageous incidents of egotism, bullying, and vainglory, all the drink and all the damnation. His prologue's title, "Amid So Much Ruin, Still the Beauty," could have been the title of the whole book.
Hendrickson writes:
I have come to believe deeply that Ernest Hemingway, however unpost-modern it may sound, was on a lifelong quest for sainthood, and not just literary sainthood, and that at nearly every turn, he defeated himself. How? "By betrayals of himself, and what he believed in," as the dying writer, with the gangrene going up his leg, says so bitterly in "The Snows of Kilimanjaro," one of Hemingway's greatest short stories. Why the self-defeating betrayal of high humanistic aspirations? The seductions of celebrity and the sin of pridefulness and the curses of megalomania and the wastings of booze and, not least, the onslaughts of bipolarism must amount to a large part of the answer. Hemingway once said in a letter to his closest friend in the last two decades of his life, General Buck Lanham, whom he had come to know on the battlefield as a correspondent in World War II: "I have always had the illusion it was more important, or as important, to be a good man as to be a great writer. May turn out to be neither. But would like to be both."

I also believe there was so much more fear inside Hemingway than he ever let on, that it was almost always present, by day and more so by night, and that his living with it for so long was ennobling. The thought of self-destruction trailed Hemingway for nearly his entire life, like the tiny wakes a child's hand will make when it is trailed behind a rowboat in calm water—say, up in Michigan.

Many years ago, Norman Mailer wrote a sentence about Hemingway that has always struck me as profound: "It may even be that the final judgment on his work may come to the notion that what he failed to do was tragic, but what he accomplished was heroic, for it is possible he carried a weight of anxiety within him from day to day which would have suffocated any man smaller than himself." The great twentieth-century critic Edmund Wilson, a contemporary of Hemingway's, who admired him early and had contempt for him late, wrote in his journals of the 1960s: "He had a high sense of honor, which he was always violating; he evidently had a permanent bad conscience."
I repeat: best book of 2011, and best Hemingway biography/appreciation out there.