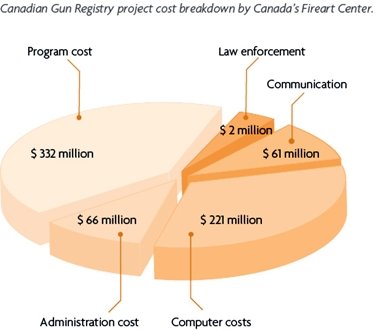 Before killing himself, the deranged 25-year-old son of an Algerian immigrant shot to death 14 women at Montreal's École Polytechnique in 1989 as a gesture of personal revenge upon Feminism, which he blamed for ruining his life.
Canadian authorities might have deported all anti-feminist Muslims likely to produce defective offspring, but instead they blamed guns, passing Bill C-68 in 1995, which created a Canadian Firearms Registry.
Registering every firearm in Canada was marketed as a measure that would prevent crime, but in reality criminals don't register guns and the ownership and specific identity of the weapon used in crimes is very rarely a meaningful issue.
Legislation creating the Firearm Registry was passed on the basis of estimates that promised that licensing fees would take care of nearly all its costs.
In reality, the gun registry cost $2.7 billion, 1350x the original estimate.

Why Projects Fail:
It was originally expected that the project needed only $2 million of investments while registration fees would cover the rest. In 1995, the Department of Justice reported to Parliament that the system would cost $119 million to implement, and that the income generated from licensing fees would be $117 million. This gave a net cost of $2 million.

At the time of the 2002 audit, the revised estimates from the Department of Justice revealed that the cost of the program would be more than $1 billion by 2004/05 and that the income from license fees in the same period would be $140 million. The annual operating costs of the program are reported to be $15 – $80 million.
Last Wednesday, the Canadian Parliament voted to end the Registry of long arms. $2.7 billion later, it was concluded that the Registry had never resulted in the solution of a single murder.