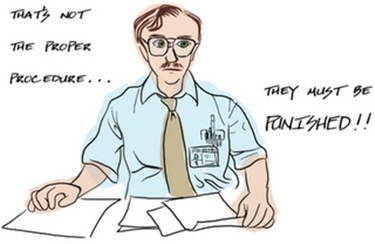 Daniel Greenfield has a superb rant on government, regulation, & bureaucracy.
The first and foremost purpose of government is to create government jobs. Going back to the early days of American history a time honored tradition of newly elected politicians was to obtain positions for their friends, their nephews and assorted cousins. In those more innocent times appointing someone an inspector of something was a cordial way of repaying a favor. But the problem with inspectors is that they inspect things.

There are only so many idiot cousins you can hire to stamp papers and frown at things until you have to create an entire new department and then a division and then an agency to give them something to do. And that leads to budget drains and an expansion of government authority that interferes with the lives of people who work for a living.

A few centuries later we live in a country where every place that has more than three people living within three miles of each other is overseen by a multitude of agencies with overlapping levels of authority beginning from the locals to the staties and all the way up to Washington D.C. where the swamps were paved over to construct massive buildings full of agencies all descended from the day someone's idiot cousin got a sinecure, a government horse and an inkwell in a city that no one used to take seriously.

Many of us would gladly trade off those buildings and those bureaucrats in return for a few dozen idiot cousins drinking in Washington taverns on the public's dime in a country with no income tax and no one pounding on your door every five minutes because you don't feed your kids arugula, don't recycle your trash and don't care about the latest trendy cause already being written into the state religion. …

The left has rejected the industrialization of mechanical things, but it remains deeply in love with the mechanization of human beings, the mass production of impulses and the programming of their souls. It is constantly drawing up five year plans to achieve one social goal or another, and if the five year plans never succeed, then that just means that it's time for an even more ambitious ten year plan to fight people who use too much water or don't teach their children tolerance.

But the reasons why machines work is because people design them. Machines however cannot design machines. When the average functionary is as devoid of autonomy and innovative thinking as your Windows PC, then the society will begin crashing as it encounters errors not in its programming. Deploying masses of asses to tackle social problems while following a rigid script filled with inflexible assumptions is a surefire way to fail and use that as an excuse to throw more men at the job.

Failure is built into the system. Large armies of men following orders is a good way to grind down equally large armies. It's not a way to run a country. Human industrialization creates bureaucratic hives which worsen everything they touch. It fills the country with functionaries following scripts that require them to confiscate our freedoms for our own good, a good that even in their limited definition they cannot achieve.

The very inflexibility of the idiot cousins guarantees their tenure. The more they fail, the more of them are needed. If we spent X amount of money to achieve Y without achieving it, then next time we must spend X+2. It's the linear mechanical logic of the idiot who can only think in terms of tackling every problem with more resources until it finally cracks. If our last machine didn't do it, then our massive EDUTRON 2000 which is twice as big and costs twice as much will surely educate all our children properly.

We have been throwing idiot cousins are the war on poverty, at discrimination and at overeating. And now we're poorer, more bigoted and fatter than we used to be. Given another generation we'll have trouble getting up out of bed at the homeless shelter long enough to carry out hate crimes. That's not the official progressive party line which says that we are more tolerant than we used to be, even as they discover five new kinds of bigotry over the weekend. And as for poverty, it's tempting to say that the only people who got rich fighting poverty were the idiot cousins, but even they are worse off in a country which is poorer than ever and which can only afford fattening food.

Like the Soviet Union, the progressive agenda never fails, it just succeeds so much that it moves on to fight new challenges, like racist babies, the imminent destruction of the planet and understanding how right wing talk show hosts brainwash people into hating all their programs. There are never defeats, only strategic retreats. Each setback is an opportunity to create a new agency full of idiot cousins with a 40 billion dollar budget in order to "invest in our future".
Hat tip to Bird Dog.