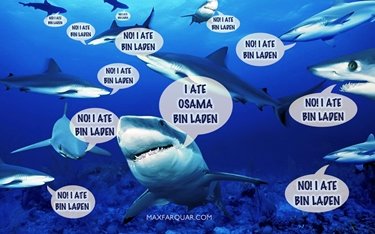 Are any of them telling the truth?
Algemeiner reported several days ago:
The website WikiLeaks has continued releasing for a fourth day what it says will eventually be 5 million e-mails sent between July 2004 and late December 2011 by the private intelligence company Stratfor. …

Wikileaks claims that Osama bin Laden's body was transferred to Dover, Delaware on a CIA plane. An email dated May 2, 2011 states the body will then be moved "…to the Armed Forces Institute of Pathology in Bethesda." Two US Air Force Airlift Wings are based at Dover Air Force Base in Dover, Delaware. In another email dated May 2, 2011 a Stratfor staff member expresses doubt that Bin Laden's corpse was buried at sea and mentions, "We would want to photograph, DNA, fingerprint, etc. His body is a crime scene and I don't see the FBI nor DOJ letting that happen."
————————————
The Nation caught up today:
According to leaked secret files of Statfor, a US security agency, Osama was not buried at sea in an Islamic ceremony but his body was shifted to the military mortuary in Dover, DE, on a CIA plane.

Then it was shifted to the medical institute of US armed forces in Maryland for examination.

At 5:26 a.m. on May 2, the morning after Barack Obama announced the successful raid on Osama bin Laden's Abbottabad compound, Stratfor CEO George Friedman sent an email that said: "Reportedly, we took the body with us. Thank goodness."

Fred Burton, Stratfor's vice president for intelligence, followed that up at 5:51 a.m. with an email titled "[alpha] Body bound for Dover, DE on CIA plane" that said: "Than [sic] onward to the Armed Forces Institute of Pathology in Bethesda."

At 1:36 p.m. Burton replied to a thread named "Re: OBL's corpse" with the message: "Body is Dover bound, should be here by now."

That contradicts the official story that bin Laden's body was handled in accordance with Islamic tradition and released into the sea from a U.S. Navy vessel.
If this is true, we need to elect another president from Yale who can see to it that Osama's skull winds up (along with those of other enemies of the United States like Geronimo) preserved for long-term private appreciation and ridicule inside a certain windowless building on High Street in New Haven, Connecticut.