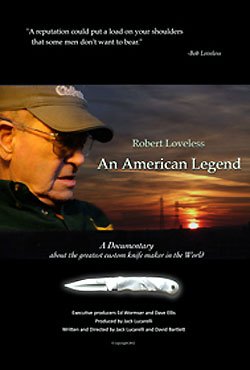 Robert Loveless, An America Legend Film Poster, top lines read: "A reputation can put a load on your shoulders that some men don't want to bear." –Jack London. Below: "A Documentary about the greatest custom knife maker in the World."
Blade Magazine reports that a new documentary on the great Bob Loveless will premier on April 26th, as part of the Beverly Hill Film Festival, two days prior to the biannual Solvang Custom Knife Show.
Information and publicity are scarce. Hey! it's twenty-odd days away. But we have that tiny (nearly unreadable) poster image above, and we know that there will be a pre-theater get-together at 4:00 p.m. at Mel's Diner, 8585 Sunset Boulevard in West Hollywood.
The actual screening will be at the Clarity Theater, 100 North Crescent Drive, Beverly Hills. Red Carpet reception at 5:30 p.m. The film is scheduled to run from 6:00 – 7:20 p.m.
Intended viewers are instructed to RSVP to Producer Ed Wormser at edw11@aol.com. Repeat after me: M.I.C.K.E.Y. M.O.U.S.E.
Still, if I were on the lower left coast, I would definitely want to see it.