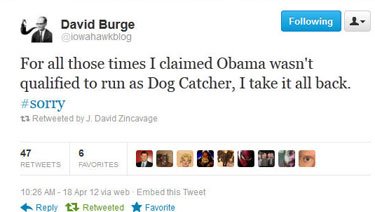 Much has been made about Mitt Romney, in 1983, putting his family dog Seamus in a kennel on top of his roof and driving from Boston to Canada, with said canine Seamus making his displeasure known in a rather scatological way.

Democrats have signaled they have every intention of making sure the American people — especially dog-lovers — know the tale. In January, senior Obama campaign strategist David Axelrod tweeted a photo of the president and Bo in a car, with the snide observation: "@davidaxelrod: How loving owners transport their dogs."

The Romney campaign signaled Tuesday night that they are not about to cede any ground when it comes to a candidate's odd past with man's best friend. ….

The Daily Caller noted that in President Obama's best-selling memoir, "Dreams from My Father: A Story of Race and Inheritance," the president recalls being fed dog meat as a young boy in Indonesia with his stepfather, Lolo Soetoro.

"With Lolo, I learned how to eat small green chill peppers raw with dinner (plenty of rice), and, away from the dinner table, I was introduced to dog meat (tough), snake meat (tougher), and roasted grasshopper (crunchy)," the president wrote. "Like many Indonesians, Lolo followed a brand of Islam that could make room for the remnants of more ancient animist and Hindu faiths. He explained that a man took on the powers of whatever he ate: One day soon, he promised, he would bring home a piece of tiger meat for us to share."

After his mother married Soetoro, Obama lived in Indonesia from 1967 until 1971, from roughly the age of 6 through 10.