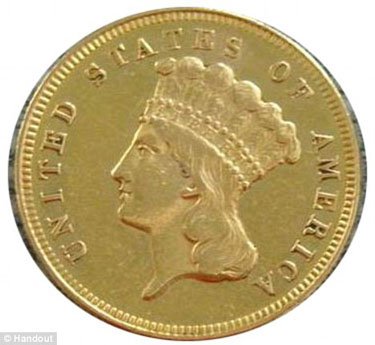 The Daily Mail:
A $3 cold coin is expected to fetch $4 million when it goes up for auction next month.

The 1870-S is one of just two ever made and is one of the rarest coins in US history.

It was discovered in a San Francisco bookshop in 1997 by a European tourist, who found it glued to the inside pages of a souvenir book.

The collector sat on his unbelievable find for 15 years, before bringing it to auction at the Four Seasons Auction Gallery outside Atlanta, Georgia.

The coin was produced by the San Francisco mint on special order of the mint superintendent, originally meant to be placed in the cornerstone of a building in the city.

It was made from a special cast that had a unique 'S' hand-carved into it. The 'S' is what makes the coin so rare.

When the coin in the cornerstone was damaged and removed, a second copy was cast.

That duplicate is on display at the American Numismatic Association Museum in Colorado Springs, Colorado. In 2007, it was valued at $4 million.

Appraisers aren't certain of the origin of the coin that is going on the auction block next month.

It could be the original that was taken from the cornerstone of the building. Or, it could be a third copy that was made and never reported.
photos of book & coin
I've found old stamps, stock certificates, and letters and inscriptions from famous people (Lord Grey of Fallodon and Siegfried Sasoon) in old books myself.