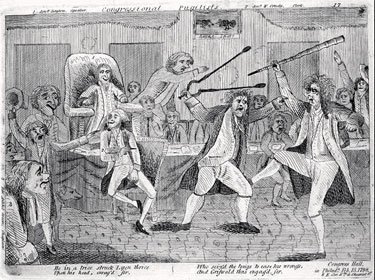 Early American Culture War: Rep. Matthew Lyon (Republican-VT) versus Rep. Roger Griswold (Federalist-CT)
Fair-minded liberal David Sessions admits that his side customarily denies its role as aggressor in the culture wars.
[I]n both the media and among hip, moderate-to-liberal evangelicals, only the right fights the culture war. Conservatives are culture warriors, but gay marriage activists are not. Thus when the topic turns to "getting beyond the culture wars," what is really meant is conservatives giving up or at least shutting up. We will get beyond the culture wars when the conservatives at least admit they've lost and decide to stop talking about this stuff so much.
And then, he turns right around and argues that cultural aggression is really just a perfectly natural and entirely legitimate expression of deeply held views in the political realm.