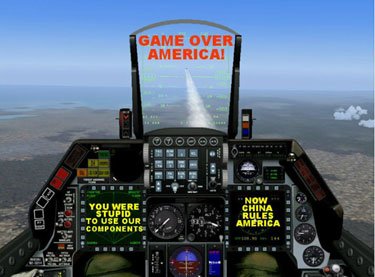 F. Michael Maloof, at World Net Daily:
Fake electronic components from China have been discovered in thermal weapons sights delivered to the U.S. Army on mission computers for the Missile Defense Agency's Terminal High Altitude Area Defense, or THAAD, missiles and on military aircraft, including several models of helicopters and the P-8A-Poseidon, according to federal investigators.

Suspected electronic parts were found in the Forward Looking InfraRed, or FLIR, Systems being used on the Navy's SH-60-B. The counterfeit parts were delivered by Raytheon, which alerted the Navy.

The new evidence comes reports that the problem with faked Chinese electronic components being installed in U.S. military systems is far more widespread that originally thought. …

The Senate panel tracked some 1,800 cases of suspected counterfeit parts through the supply chain. It found that U.S. defense contractors had purchased many of the critical components from U.S. companies who in turn obtained them from Chinese firms but never subjected them to testing before handing them over to the U.S. military as part of their contract.

The Senate unit, whose investigators were denied access to Chinese firms by Chinese authorities, said that the evidence "consistently point(s) to China as the epicenter of the global trade in counterfeits."

To put the growing problem into perspective, Gen. Patrick O'Reilly, director of the U.S. Missile Defense Agency, said, "We do not want a $12 million missile defense interceptor's reliability compromised by a $2 counterfeit part.