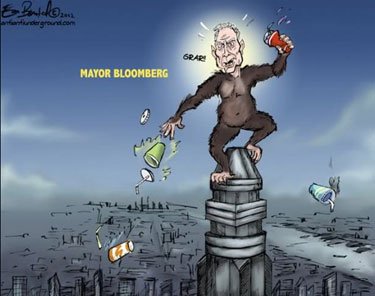 James Lileks loses his temper about Mayor Bloomberg's latest exercise in Nanny Governance.
A culture that redefines food choices as moral issues will demonize the people who don't share the tastes of the priest class. A culture that elevates eating to some holistic act of ethical self-definition – localvore, low-carbon-impact food, fair trade, artisanal cheese – will find the casual carefree choices of the less-enlightened as an affront to their belief system. Leave it to Americans to invent a Puritan strain of Epicurianism.
It's worth looking at the whole thing.
There is some sort of paradox about the fact that you cannot have significant cultural resources without the critical mass of humanity provided by a great urban metropolis, but to live in a city with access to concerts, opera, and theater, you have to submit to living under the rule of crooks and nincompoops.