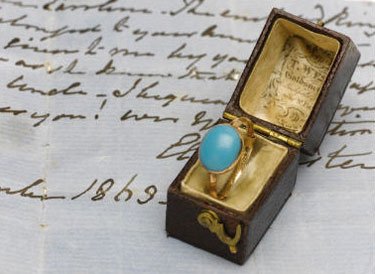 A turquoise and gold ring once belonging to Jane Austen sold yesterday at Sotheby's in London for 152,450 pounds ($236,000) more than five times its pre-sale estimate.
Sotheby's Sale L12404, Lot 59.
The Telegraph reported:
The ring, which featured a large oval turquoise gemstone, was sold alongside a handwritten letter by her sister-in-law Eleanor Austen bequeathing the rare jewel to her niece Caroline.

The note, dated 1863, confirms the item belonged to the 19th-century British author.

"My dear Caroline," Eleanor wrote. "The enclosed ring once belonged to your Aunt Jane. It was given to me by your Aunt Cassandra as soon as she knew that I was engaged to your uncle. I bequeath it to you. God bless you!"

The rare piece is the latest in a series of the writer's pieces to be sold at auction.

Last year, a handwritten draft of an unpublished Jane Austen book was sold for just over £1 million. It was said to be the earliest surviving manuscript of the author's work.

The sale of Miss Austen's jewellery at more than five times its estimate yesterday appeared to demonstrate that fascination with the Pride and Prejudice writer has yet to wane.

After a tense battle between eight bidders, the item was eventually sold at £152,450 to an anonymous private collector over the phone.

"Jane Austen's simple and modest ring is a wonderfully intimate and evocative possession," said Dr Gabriel Heaton, a manuscript specialist at Sotheby's auction house.