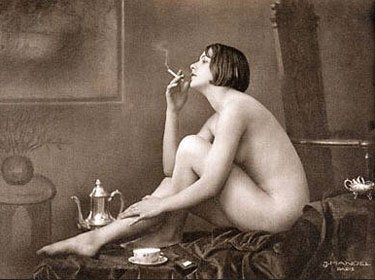 Risque postcard of nude woman smoking by Julian Mandel.

F. Scott Fitzgerald's 1936 story, "Thank You For the Light," was just published in the New Yorker.
Mrs. Hanson was a pretty, somewhat faded woman of forty, who sold corsets and girdles, travelling out of Chicago. For many years her territory had swung around through Toledo, Lima, Springfield, Columbus, Indianapolis, and Fort Wayne, and her transfer to the Iowa-Kansas-Missouri district was a promotion, for her firm was more strongly entrenched west of the Ohio.

Eastward, she had known her clientele chattily and had often been offered a drink or a cigarette in the buyer's office after business was concluded. But she soon found that in her new district things were different. Not only was she never asked if she would like to smoke but several times her own inquiry as to whether anyone would mind was answered half apologetically with "It's not that I mind, but it has a bad influence on the employees."

"Oh, of course, I understand."

Smoking meant a lot to her sometimes. She worked very hard and it had some ability to rest and relax her psychologically. She was a widow and she had no close relatives to write to in the evenings, and more than one moving picture a week hurt her eyes, so smoking had come to be an important punctuation mark in the long sentence of a day on the road.
Read the whole thing.
Hat tip to John W. Brewer.