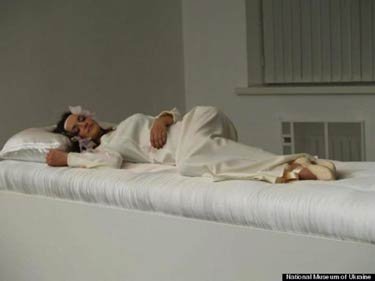 Death and Taxes describes the latest development in exhibition art works.
Sleeping Beauties" in heavy make-up and long white nightgowns are lying on beds at National Art Museum of Ukraine, waiting to be kissed by the general public. Each girl has signed a contract with artist Taras Polataiko, promising to marry any man who can open her eyes with just a kiss.

And any unmarried male suitor over the age of 18 who comes to view the exhibit has to sign a similar contract: if the Sleeping Beauty opens her eyes during the kiss, he'll be her husband.

While installations involving real people are always weird, this one is something special: How does one open a sleeping person's eyes with a kiss without actually prying her eyelids open with his mouth?

One of the beauties explains: "If it's my true love, I will feel it on an intuitive level. Secondly, if I don't feel it, I won't open my eyes. Anything can happen in life. And suddenly it's fate. What if it's the only way I'll meet my soul mate?" Which means the kisses will be mouth-to-mouth, and she'll be choosing a husband based entirely on his kissing skills.