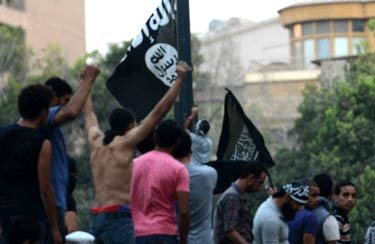 Cairo rioters surrounding US Embassy carrying black flag. The round circle represents the personal seal of Mohammed (used in correspondence with foreign leaders) and is a standard feature found in al Qaeda flags.

Charles C.W. Cooke delivers a history lesson on the negative symbolism of black flags.
'Every normal man," wrote H. L. Mencken, "must be tempted, at times, to spit on his hands, hoist the black flag, and begin to slit throats." Given that his subject was modern poetry, he can be forgiven the impulse. But we might politely decline to join him. There are few occasions on which the raising of a black flag has been an overture to something pretty, and a great many on which it has augured something ill. Black flags are harbingers of chaos.

The recent events in the Arab world are no exception. The barbarism in Egypt and Libya pushed back into view the nefarious purposes to which black flags are most commonly deployed. Having scaled the walls of the American embassy compound in Cairo on September 11, protesters ripped down Old Glory, set fire to it, and managed to replace it temporarily with their own pennant. At the consulate in Benghazi, marauders put up their flag, murdered the ambassador and three other Americans, and caused as much damage as they could. The unrest has not yet stopped, with U.S. citizens and property being targeted in Lebanon, Yemen, Tunisia, and Syria.
Read the whole thing.
Wikipedia on Islamic flags.
Wikipedia on the Islamic Black Flag.