Close-up of Obama's hand in Cairo, Egypt, June 4, 2009.
Theo Spark tells us that Barack Hussein Obama always wears or carries on his person three items:
– A Hindu god amulet
– A Masonic emblem
– A ring inscribed "there is no god but Allah"

He is 'secretive' about these things, but nobody really 'cares' if he is a Prince Hall Freemason.
————————–
WND found that Barack Obama has been wearing that ring for more than thirty years, since at least 1981 when he was a student at Occidental.
As a student at Harvard Law School, then-bachelor Barack Obama's practice of wearing a gold band on his wedding-ring finger puzzled his colleagues.

Now, newly published photographs of Obama from the 1980s show that the ring Obama wore on his wedding-ring finger as an unmarried student is the same ring Michelle Robinson put on his finger at the couple's wedding ceremony in 1992.

Moreover, according to Arabic-language and Islamic experts, the ring Obama has been wearing for more than 30 years is adorned with the first part of the Islamic declaration of faith, the Shahada: "There is no god except Allah."

Inscription on Obama's ring

The Shahada is the first of the Five Pillars of Islam, expressing the two fundamental beliefs that make a person a Muslim: There is no god but Allah, and Muhammad is Allah's prophet.

Sincere recitation of the Shahada is the sole requirement for becoming a Muslim, as it expresses a person's rejection of all other gods.

Egyptian-born Islamic scholar Mark A. Gabriel, Ph.D., examined photographs of Obama's ring at WND's request and concluded that the first half of the Shahada is inscribed on it.

"There can be no doubt that someone wearing the inscription 'There is no god except Allah' has a very close connection to Islamic beliefs, the Islamic religion and Islamic society to which this statement is so strongly attached," Gabriel told WND.
Does his wearing that ring prove that Barack Obama is a secret Muslim? No… but it obviously establishes beyond a shadow of a doubt that he has a very strong personal sense of identification with Islam and views Islam far more positively than many Americans do these days.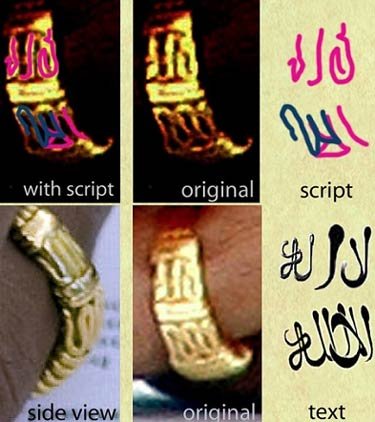 "There is no God but Allah" overlaid on Obama's ring.