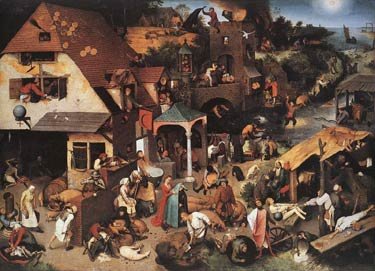 Pieter Brueghel the Elder, Nederlandse Spreekwoorden [Netherlandish Proverbs], also known as The Blue Cloak and The Folly of the World, 1559, Staatliche Museen, Berlin

Dan Greenfield has another absolutely brilliant essay on the contemporary tyranny based upon ressentiment.
[The] same noxious formula of the fight for equality shamelessly transmuted into special privilege has flowed into every struggle that models itself on the civil rights movement. And with each battle, freedom has been lost as a new layer of privilege and the regulations that protect that privilege have been added. We have long ago lost the presumption of innocence, now everyone is guilty of something and the power to wield that guilt like a whip is the ultimate privilege.

With a new wave of civil rights movements popping up every few years, backed by academic papers, grants from the Ford Foundation and "groundbreaking books" with confrontational titles, it is easy not to notice how little actual freedom we have. We spend so much time on the barricades fighting for the next wave of freedom that we are too community organized to realize how much freedom we have lost. We lost it while demanding more regulations to protect our freedom to be regulated from all the people who would take our freedom away from us by giving us back our rights as individuals.
He's spot-on right. Look at the talk these days about "Marriage Equality." What Marriage Equality means is a small minority is demanding the right to redefine the most basic and immemorial human institution in such a way as to cause the state to recognize and enforce the moral and social equality of homosexual relations. And if you go around insisting in retaining the freedom to think as you like on that particular subject, you are defined as the oppressor.
Read the whole thing.