NPR:
Scientists working on NASA's six-wheeled rover on Mars have a problem. But it's a good problem.

They have some exciting new results from one of the rover's instruments. On the one hand, they'd like to tell everybody what they found, but on the other, they have to wait because they want to make sure their results are not just some fluke or error in their instrument.

It's a bind scientists frequently find themselves in, because by their nature, scientists like to share their results. At the same time, they're cautious because no one likes to make a big announcement and then have to say "never mind."

The exciting results are coming from an instrument in the rover called SAM. "We're getting data from SAM as we sit here and speak, and the data looks really interesting," John Grotzinger, the principal investigator for the rover mission, says during my visit last week to his office at NASA's Jet Propulsion Laboratory in Pasadena, Calif. That's where data from SAM first arrive on Earth. "The science team is busily chewing away on it as it comes down," says Grotzinger.

SAM is a kind of miniature chemistry lab. Put a sample of Martian soil or rock or even air inside SAM, and it will tell you what the sample is made of.

Grotzinger says they recently put a soil sample in SAM, and the analysis shows something earthshaking. "This data is gonna be one for the history books. It's looking really good," he says.
I'm betting on microbial life.
———————————-

Yahoo quotes a News Agency report of the additional locating by the Mars rover of "a small, bright object."
NASA officials say the Curiosity rover has made its first scoop of the surface of planet Mars and has detected a bright object on the ground.

Officials said in a news release Monday that they suspect the object might be a part of the six-wheeled rover, but they won't sample or scoop anymore until they figure out what it is.

The Curiosity has already beamed back pictures of bedrock that suggest a fast-moving stream once flowed on the planet.

The rover landed Aug. 5 and is on a two-year, $2.5 billion mission to study whether microbial life could have existed on Mars in the past.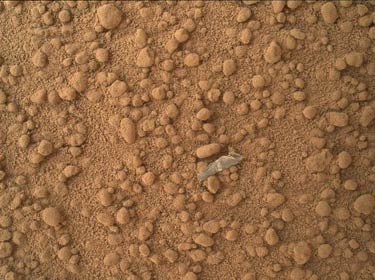 Cigar band dropped by Captain John Carter, C.S.A.