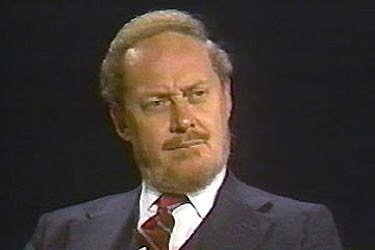 Walter Olson argues that Judge Bork lost the battle for his own Supreme Court Confirmation but, while the liberals weren't noticing, has been winning the war of constitutional interpretation on behalf of fideism.
[T]he confirmation critique that makes it into every Bork obituary [is] Ted Kennedy's blowhard caricature, intended for northern liberal consumption, of "Robert Bork's America" as "a land in which women would be forced into back alley abortions, blacks would sit at segregated lunch counters, rogue police could break down citizens' doors in midnight raids, school children could not be taught about evolution," and so on.

Never in memory had a judicial nomination been fought in such language. Why?

As a constitutional law scholar, Bork had distinguished himself even among conservatives for his scathing critique of the Warren Court, which he accused essentially of having made up constitutional law as it went along. …

Within a few years, presidents of both parties were taking care to pick nominees with schmoozy as opposed to prickly personalities — and willing to submit to coaching on how to give off that oh-so-important empathetic vibe without actually committing to anything.

Ideologically predictable though some of these folks might be, they lacked the intellectual heft and daring paper trail of a Richard Epstein on the right, a Cass Sunstein on the left or a Richard Posner somewhere in between. …

But with regard to the Warren Court, it's looking as if he'll have the last laugh. Obama's high court nominees are just as eager as George W. Bush's to decry the practice of making up the constitution as one goes along, while "liberal originalism," which takes seriously the insistence of critics like Bork that judges must adhere to what's actually in the founding document, is making headway among scholars at places like Yale Law School.

Not such a bad legacy.
———————————–
David Frum also remembered the distinguished jurist as a man who believed in personal modesty and who exercised official responsibility with objectivity and restraint.
Pessimistic as he was, however, Robert Bork was in no way bitter or angry. "Mordant" is the word I think I want to describe his conversation. His bleak assessment of his fellow human creatures was based upon hard experience. He was used to hearing his ideas distorted, and his best actions distorted and vilified. Before his nomination to the Supreme Court, Bork was best known as the man who fired Watergate special prosecutor Archibald Cox. Bork's two immediate superiors in the Department of Justice had resigned rather than execute the presidential order. Bork didn't approve the order any more than the others did. But he also understood that the order was a legal one, and that somebody sooner or later was going to have to carry it out. This unpleasant duty had to be done, and since it had to be done, Bork's sense of responsibility required him to do it.

The whole domain of law and judging was bounded, in Bork's view, by a like sense of responsibility. Laywers and judges, as he saw it, were not knight-errant righters of wrong, not freelance agents of abstract justice, but fallible people no wiser than anyone else, entrusted only with certain defined powers to settle certain kinds of disputes. Those judges who claimed greater power received more applause than Robert Bork ever drew, but they did not deserve. Their actions were power-grabbing and their motives were arrogant. Bork made this case powerfully and vividly in the best book of his later years, Coercing Virtue.