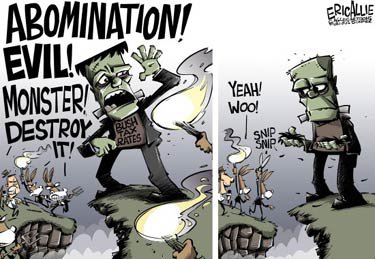 Yuval Levin, at NR, assesses the denouement of the "Fiscal Cliff" confrontation, and concludes that the democrats played their best card and did not really win all that much.
Republicans… maybe they could have done a little better, but they probably couldn't have done much better.

But the Democrats could have, and the story of their failure here has not yet gotten the notice it deserves. In the long run, when the dust has settled, I think that will be the real story of the fiscal cliff. For liberals, this was not a moment of danger to be minimized but by far their best opportunity in a generation for increasing tax rates (which is the only fiscal reform they seem to want) and for robbing Republicans of future leverage for spending and entitlement reforms. And it is likely the best one they will encounter for another generation. …

If even under the conditions of the past month — with a very liberal president just re-elected, Republicans in disarray, public opinion on taxes seemingly friendlier to them than it has been in decades, and higher tax rates automatically taking effect — the Democrats can't get more than a tiny pittance of revenue and no chips to use later, then their basic approach to fiscal issues just won't work. The idea that they will raise rates again in the Obama years when they don't have all these factors working in their favor is a fantasy. And the notion that the politics of taxes has decisively changed in their favor has been disproven by their own behavior: Many Democratic senators were as relieved as Republicans to see the threshold for higher rates rise well above $250,000, and would not have stood for it dropping below that level to where their upper middle class voters are. Having discovered an effective political wedge in the tax debate, the Democrats have now basically used it up and gotten awfully little in return. They can't begin to acknowledge that the levels of spending they want to sustain will require a far greater tax burden on far more people (and in a far more regressive way) than today's code, and if they can't even state what they want out loud then they're not likely to get it. Their bluff has been called. The welfare state they want to retain and expand cannot be funded, and they apparently have no way to do anything about that.