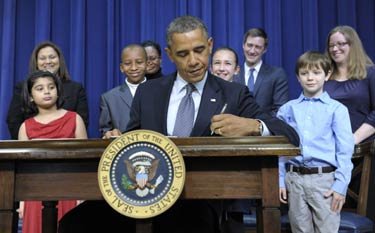 Obama uses children as stage props as he signs his silly and pointless executive orders.
Dan Greenfield, in another of his intelligent essays, describes the national dynamic operating behind the current gun control debate.
The designated victim, like the ancient saint, is a martyr to a cause. And with the left, the cause is invariably really big government. The suffering of the saintly victims is monetized by the cause as unquestionable moral authority. The victims are designated, made famous and milked for their victimhood, and then the victimhood is bottled into white jars and shipped to Washington D.C.

Americans are suckers for a sob story. But a lot of them are also suckers for personal freedom. Whenever a bullseye is put on freedom for the greater good, two narratives battle it out for the soul of the country. "We have to fix this" and "Leave me alone."

Think of We have to fix this" and "Leave me alone" as the devil and angel on the shoulders of every cartoon character for the last hundred years. "We have to fix this," wears an earnest expression and her appearance is calculated to suggest nurse, teacher or PTA member, when in reality she's usually an Ivy League grad with a lot of time spent in government and political advocacy and whose kids are raised by Elena from Guatemala, whose immigration status is that of Undocumented Democrat. …

The other figure on the shoulder is a familiar one. You can see him on the news talk shows where he shows up as the designated target. Usually he wears his best suit, combs his hair and comes prepared to explain why we shouldn't give up our freedoms just because a California Senator has decided that this is her chance to create a lasting legacy over the bodies of dead children. …

But there's still a great deal of visceral sympathy for "Leave it alone" from millions of Americans who have their privacy violated and their rights abridged by government officials every day. They like the thought of a little rebellion, even symbolic, and every time a gun ban is put on the table, they begin buying up the stock of sporting goods stores.

The ordinary Americans may have to account to the government for how he heats his home, mows his yard, feeds his hogs, fuels his car, teaches his kids, sells his crops and fixes his roof, but the 2nd allows him to hang on to the illusion that he is his own master and that at any moment an uprising can sweep away the petty bureaucrats who have their Vibrams on his neck. And maybe one day it can.