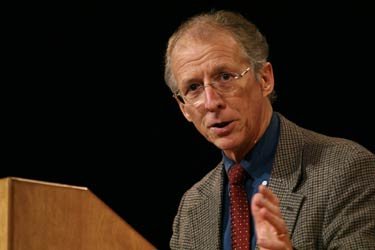 Protestant theologian John Stephen Piper
I'm a skeptic and a scoffer, and am generally far more in favor of sin than I am of religion. So I doubt I'd agree with John Piper on too many things (besides voting Republican), but on the subject of women in combat, in an editorial a few years back, he won my admiration and regard by stating so perfectly the views on this subject of any right-thinking man.
If I were the last man on the planet to think so, I would want the honor of saying that no woman should go before me into combat to defend my country. A man who endorses women in combat is not pro-woman; he's a wimp. He should be ashamed. For most of history, in most cultures, he would have been utterly scorned as a coward to promote such an idea. …

Back in the '70s, when I taught in college, feminism was new and cool. So my ideas on manhood were viewed as the social construct of a dying chauvinistic era. I had not yet been enlightened that competencies, not divine wiring, governed the roles we assume. Unfazed, I said no.

Suppose, I said, a couple of you students, Jason and Sarah, were walking to McDonald's after dark. And suppose a man with a knife jumped out of the bushes and threatened you. And suppose Jason knows that Sarah has a black belt in karate and could probably disarm the assailant better than he could. Should he step back and tell her to do it? No. He should step in front of her and be ready to lay down his life to protect her, irrespective of competency. It is written on his soul. That is what manhood does.