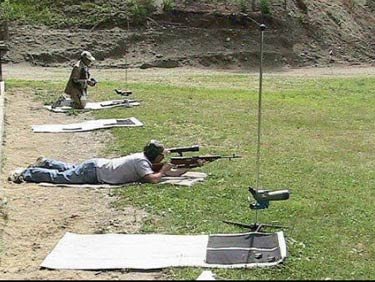 The Lamoille Valley Fish & Game Club shooting range.
The local Fish & Game Club in a rural town just outside the urban community of fashion's key outpost in Vermont, in response to recent Gun Control moves by Burlington's left-wing administration and city council, told Burlington that its city police should go find some other facility to use for training and range qualification.
Burlington's mayor and the police department are using the same word to describe a Lamoille County firing range's edict that city officers are unwelcome to train there in a dispute over gun control:

"Unfortunate."

Reached Thursday evening, Mayor Miro Weinberger told the Burlington Free Press that the ban on city police use of the facility is "an unfortunate response to the beginning of a process by the City Council to attempt to protect Burlington's children and community."

Said Burlington Police Department Deputy Chief Andi Higbee: "It is unfortunate that this important and much-needed community dialogue regarding gun control currently under way in the City of Burlington and across the Nation has resulted in this action."

At issue is a decision this week by the Lamoille Valley Fish and Game Club Inc. to order a halt to Burlington police officers' use of the Morrisville facility. The action is a response to the City Council's advancing a measure to ban semi-automatic rifles and large-capacity magazines in Burlington.

The City Council's action threatens constitutional freedoms, Robert Boivin II, board chairman, wrote in a letter to the police department and to city and state leaders.

That letter, dated Tuesday, was obtained Wednesday by the Burlington Free Press, which broke the news of the expulsion on its website Wednesday night.

The club's executive board "can no longer support the City of Burlington with such a prejudice against our club and its members, and has voted to suspend the City's use of our range for its law enforcement. This action is effective immediately," Boivin wrote in the letter.

"We hope that the council reconsiders its actions and redirects its efforts towards perpetrators of violent crimes and security issues," Boivin continued.

The city's exclusion from the range likely would affect how and when officers train with firearms, Burlington Police Chief Michael Schirling told the Free Press on Wednesday night.

"Training facilities are limited in the area," Schirling said. "It's unfortunate that a polarized discussion of this nature has this kind of impact."

The Burlington City Council voted 10-3 earlier this month to direct its charter change committee to craft a ban on assault-type firearms and large-capacity magazines. The meeting was marked by a high turnout by the public, virtually all of whom were opposed to such a ban.
Glenn Reynolds responded:
"Oh, it's dialogue that you're seeing. That's what you don't like."