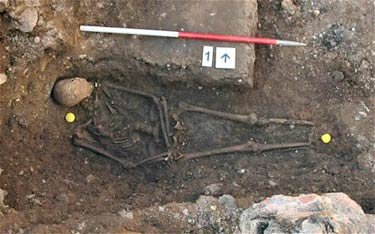 BBC: "It is the academic conclusion of the University of Leicester that, beyond reasonable doubt, the individual exhumed at Greyfriars in September 2012 is indeed Richard III, the last Plantagenet King of England."
Dr Jo Appleby, an osteo-archaeologist from the university's School of Archaeology and Ancient History, revealed the bones were of a man in his late 20s or early 30s. Richard was 32 when he died.

His skeleton had suffered 10 injuries, including eight to the skull, at around the time of death. Two of the skull wounds were potentially fatal.

One was a "slice" removing a flap of bone, the other was caused by bladed weapon which went through and hit the opposite side of the skull – a depth of more than 10cm (4ins).

Dr Appleby said: "Both of these injuries would have caused an almost instant loss of consciousness and death would have followed quickly afterwards.

"In the case of the larger wound, if the blade had penetrated 7cm into the brain, which we cannot determine from the bones, death would have been instantaneous."

Other wounds included slashes or stabs to the face and the side of the head. There was also evidence of "humiliation" injuries, including a pelvic wound likely to have been caused by an upward thrust of a weapon, through the buttock.
——————————-
On 22 August 1485, Richard met his rival Henry Tudor – the soon-to-be Henry VII – in fields near Market Bosworth in Leicestershire.

Most sources agree Richard's army was larger, but it failed to sweep his enemy from the field.

Dr Steven Gunn, a fellow in modern history at Merton College, Oxford, said Tudor historian Polydore Vergil wrote a vivid account of Richard's next, extraordinary, move.

He explained: "He says spies told Richard that Henry was riding with a small number of men, so when he sees this, Richard leads a charge straight at him.

"He then goes on to say: 'In the first charge Richard killed several men; toppled Henry's standard, along with the standard-bearer William Brandon; contended with John Cheney, a man of surpassing bravery, who stood in his way, and thrust him to the ground with great force; and made a path for himself through the press of steel.'

"Richard is then surrounded by enemy troops but Vergil only says he was killed 'fighting in the thickest of the press'.

"More detail comes from a Burgundian historian Jean Molinet, who describes Richard's horse becoming stuck in a marsh and then 'unhorsed and overpowered, the king was hacked to death by Welsh soldiers'."
——————————-

Results of mtDNA analysis: positive.
——————————-
Osteoanalysis slideshow & video.
——————————-