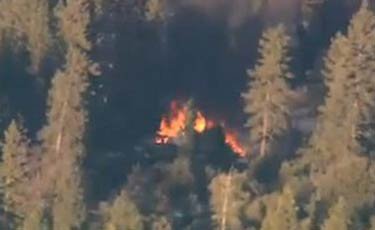 (KABC photo)
Is setting buildings afire in order to force a suspect to come out or be burned alive an appropriate police tactic? I come from a family which produced large numbers of police officers over several generations. I'm not a bleeding heart or soft on crime either. But I'm pretty skeptical of the practice of equipping police with incendiary tear gas grenades, making it possible for them to intentionally torch buildings and then (like Sheriff McMahon) feign no responsibility by blaming the tear gas for "accidentally" igniting a fire.
Those California police would obviously have been perfectly entitled to shoot Dorner dead to reduce him to possession when he continued to resist, but I think it is (a) cowardly and (b) dubiously legal for them to destroy private property and use arson in order to avoid waiting and exchanging more gunfire with a criminal.
——————————
San Bernardino County Sheriff John McMahon… told reporters that the fire in the cabin where Christopher Dorner presumably died was not intentionally set by authorities. He said tear gas canisters fired into the cabin apparently set the blaze.
——————————
An alleged recording of police scanner audio transmissions strongly contradicts McMahon's statement.
"All right, Steve, we're gonna go — we're gonna go forward with the plan, with — with the burn," a male voice on the recording instructs. "We want it like we talked about."

"Seven burners deployed and we have a fire," the voice later adds.

"Copy," a female voice replies. "Seven burners deployed and we have a fire."

"Guys, be ready on the number four side. We have fire in the front. He might come out the back," a male voice says.