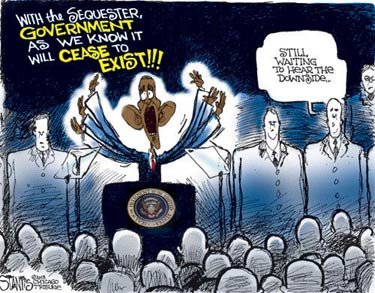 Yuval Levin puts the oh-so-terrible impact of the automatically-triggered sequester into perspective. It doesn't shut down the federal government. It does not starve the poor or leave America defenseless. It doesn't even really reduce federal spending. It merely slightly slows already budgeted spending.
Let's get a grip. In its first year, fiscal year 2013, which ends September 30, the sequester would involve a total of $85 billion in spending cuts. That's a reduction of 3% from what federal spending otherwise would have been this year. But even that significantly overstates the effects the sequester would actually have this year. The federal government is so lumbering and huge that it can't even reduce its own spending that quickly. That's why "first year" cuts are always so difficult in even the most fiscally conservative budget proposals. The Congressional Budget Office (on page 11 of its latest budget outlook, published earlier this month) estimates that while FY 2013 spending will ultimately be reduced by $85 billion, "discretionary outlays will drop by $35 billion and mandatory spending will be reduced by $9 billion this year as a direct result of those procedures; additional reductions in outlays attributable to the cuts in 2013 funding will occur in later years." So in this fiscal year, we would actually be looking at a $44 billion spending cut, or less than a 1.5% reduction from what federal spending otherwise would have been. It would mean that federal spending in 2013 will be about $3.553 trillion. In 2012, federal spending was $3.538 trillion. Yes, that means that even with the sequester we will be spending slightly more in 2013 than we did in 2012. In fact, we will be spending more than we did in any year in American history except for 2011 (when we spent $3.598 trillion).
—————————-
Democrats and their media allies will be blaming Republicans, if the Sequester comes to pass, but Bob Woodward (no Republican) points out the truth.
What is the non-budget wonk to make of this? Who is responsible? What really happened?

The sequester and the debt ceiling, explained: President Obama and lawmakers are facing several important fiscal deadlines. One is to avoid the $1.2 trillion in spending cuts included in sequestration and another is raising the country's debt ceiling. Here is a look at some of the issues involved in these two fiscal challenges.

The finger-pointing began during the third presidential debate last fall, on Oct. 22, when President Obama blamed Congress. "The sequester is not something that I've proposed," Obama said. "It is something that Congress has proposed."

The White House chief of staff at the time, Jack Lew, who had been budget director during the negotiations that set up the sequester in 2011, backed up the president two days later.

"There was an insistence on the part of Republicans in Congress for there to be some automatic trigger," Lew said while campaigning in Florida. It "was very much rooted in the Republican congressional insistence that there be an automatic measure."

The president and Lew had this wrong. My extensive reporting for my book "The Price of Politics" shows that the automatic spending cuts were initiated by the White House and were the brainchild of Lew and White House congressional relations chief Rob Nabors — probably the foremost experts on budget issues in the senior ranks of the federal government.

Obama personally approved of the plan for Lew and Nabors to propose the sequester to Senate Majority Leader Harry Reid (D-Nev.). They did so at 2:30 p.m. July 27, 2011, according to interviews with two senior White House aides who were directly involved.

Nabors has told others that they checked with the president before going to see Reid. A mandatory sequester was the only action-forcing mechanism they could devise. Nabors has said, "We didn't actually think it would be that hard to convince them" — Reid and the Republicans — to adopt the sequester. "It really was the only thing we had. There was not a lot of other options left on the table."