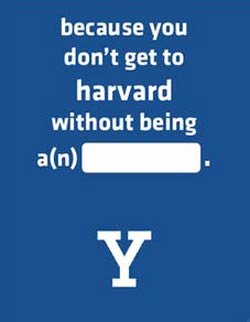 Ted Cruz got himself described as "the new McCarthy" by Jane Mayer in the New Yorker for asking Chuck Hagel about accepting speaker fees from North Korea. Mayer then dug deeper, and disclosed that, two and half years ago at a 4th of July speech, Cruz reminisced about his days at Harvard Law School (1992-1995), observing that Barack Obama would make a perfect president of Harvard's Law School, which in Cruz's time had "fewer Republicans than communists."
Bill O'Reilly and Mitt Romney both also spent time at the little institution on the Charles, and both of them have also recently had critical things to say about Harvard's characteristic politics and influence.
Well, you can only take so much, and the editors of the Harvard Crimson struck back this week, openly urging conservatives dissenters not even to apply for admission.
If you think Harvard is a revolutionary communist hotbed, don't apply. If you think Harvard is full of "pinheaded" professors, don't enroll. And if you think Harvard pollutes the minds of its students, don't walk out of here with a degree—and certainly don't get two.
As Daniel Webster might have said: "It's a bright-red, anti-American school, stuffed to the rafters with bolshies peddling pin-headed, crack-brained ideas, but some love it."