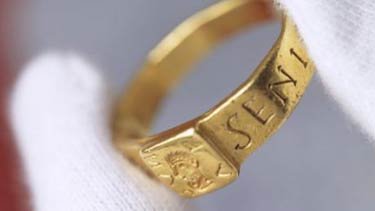 A Roman ring, found in a farmer's field (presumably part of what was once the Roman town Calleva Atrebatum) near Silchester, Hampshire in 1785 in some unknown manner wound up preserved in the library of The Vyne, a stately 16th century home belonging (until 1958, damn Socialism!) to the Chute family.
The ring bears an image of Venus and a Latin inscription. That inscription apparently connects the ring to a Latin curse tablet found by Sir Mortimer Wheeler in an excavation of a temple complex associate with the god Nodens at Lydney Park in Gloucestershire.
The lead curse tablet read:
DEVO NODENTI SILVIANVS ANILVM PERDEDIT DEMEDIAM PARTEM DONAVIT NODENTI INTER QVIBVS NOMEN SENICIANI NOLLIS PETMITTAS SANITATEM DONEC PERFERA VSQVE TEMPLVM DENTIS
For the god Nodens. Silvianus has lost a ring and has donated one-half [its worth] to Nodens. Among those named Senicianus permit no good-health until it is returned to the temple of Nodens.
Sir Mortimer Wheeler in 1929 apparently consulted with J.R.R. Tolkien at Oxford about the natural hypothesis that the Silchester ring, with the inscription "SENI???", might be the very same ring Silvianus had lost.
Tolkien took an interest in the matter, visited the Gloucestershire temple complex several times, and made a point of looking into the etymology of the name of the god Nodens.
It is believed today that it was this real world story of a lost, and very improbably rediscovered, gold ring, bearing an inscription, and weighted with a curse that may very well have been the inspiration of the One Ring featured in The Hobbit which appeared in 1937.
In any event, the Silchester ring is now being put on display by the combined efforts of the Tolkien Society and the National Trust in a newly-established "Ring Room" in The Vyne.
BBC story
The Register
National Trust page