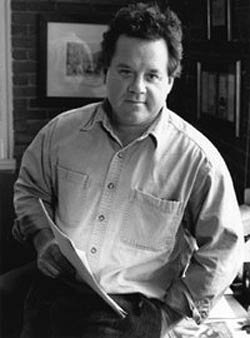 Michael Kelly (1957-2003)
Bret Stephens remembers Michael Kelly, the American journalist killed ten years ago south of Baghdad Airport, traveling embedded with the US Army's Third Division. His jeep came under enemy fire, and the driver lost control while trying to evade and went into a canal. Kelly drowned along with his driver, becoming the first American journalist to lose his life during the war.
Wouldn't you know that it would be a reporter like Kelly who got killed, not one of the usual verminous breed?
Kelly treated a column as a sword, the obvious and most worthy purpose of which was to stab, slice, decapitate and—once he really got going—utterly disembowel the objects of his contempt.

Which objects? The pompous, the dishonest, the phony, the self-satisfied, the morally safe and smug, the debauched, the downright evil. To speak more precisely: Al Gore, Bill Clinton, Frank Sinatra, Mr. Gore again, the news media in general, Ted Kennedy, Yasser Arafat. And, of course, Hollywood, which pretty much exemplified all the above-mentioned qualities.

Kelly didn't just deride these people and institutions. Before he could skewer them, he had to capture them. Writing about Oscar night, he catches Jack Nicholson "leering and sprawling paunchily in his ringside chair like an especially dissolute pasha waiting for his next lap dance." From an early profile of Bill Clinton: "When he spoke, perception was not only reality. It was a reality that changed, quicksilver quick, from eye to eye and ear to ear." Of one of Mr. Gore's debate performances against George W. Bush: "It was much like the most infuriating of all husbandly marital-argument tactics. You know the one—where you play the part of the patient but pained party in the obvious right, too much a gentleman to say that your wife is spewing pure rubbish, but communicating utter contempt through creative breathing."

Reading Kelly, I used to wonder: Did his power of observation explain his moral judgments, or was it the other way around? Usually (though few of us columnists will admit it), we make our judgments and then find our evidence. I don't think this was true of Kelly: He was like a man born with a preternatural sense of smell. He couldn't help smelling it. And he could smell it from a mile away.

Take his view of Frank Sinatra. Everyone loved Old Blue Eyes and mourned him when he died in 1998. Everyone except Michael Kelly.

Kelly hated Frank because Frank had invented Cool, and Cool had replaced Smart. What was Smart? It was Humphrey Bogart in Casablanca: "He possesses an outward cynicism, but at his core he is a square. . . . He is willing to die for his beliefs, and his beliefs are, although he takes pains to hide it, old-fashioned. He believes in truth, justice, the American way, and love. . . . When there is a war, he goes to it. . . . He may be world weary, but he is not ironic."

Cool was something else. "Cool said the old values were for suckers. . . . Cool didn't go to war; Saps went to war, and anyway, cool had no beliefs he was willing to die for. Cool never, ever, got in a fight it might lose; cool had friends who could take care of that sort of thing."

It never, ever would have occurred to me to make the distinction until I read Kelly's column. And then I understood Sinatra. And then I understood Kelly, too.

Kelly, who was killed 10 years ago as an embedded journalist just outside of Baghdad, was Smart. When the war came, he, too, went to it. Few columnists in America had argued as passionately, and none as cogently, for the overthrow of Saddam Hussein.

"To march against the war is not to give peace a chance," he wrote six weeks before his death. "It is to give tyranny a chance."
Read the whole thing.