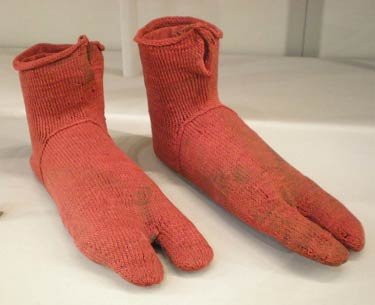 Knitted socks, made 250-420 AD, found at Oxyrhynchus, donated to the Victoria and Albert Museum in 1900
Smithsonian quotes the V&A description then comments:
The Romano-Egyptian socks were excavated in the burial grounds of ancient Oxyrhynchus, a Greek colony on the Nile in central Egypt at the end of the 19th century. They were given to the Museum in 1900 by Robert Taylor Esq., 'Kytes,' Watford. He was executor of the estate of the late Major Myers and these items were selected among others from a list of textiles as 'a large number of very useful examples.'

Particularly intriguing about these "very useful examples" is the technique used to construct these red wool socks. Called nålbindning, or single-needle knitting, this time-consuming process required only a single thread. The technique was frequently used for close-fitting garments for the head, feet and hands because of its elastic qualities. Primarily from prehistoric times, nålbindning came before the two-needle knitting that's standard today; each needle was crafted from wood or bone that was "flat, blunt and between 6-10 cm long, relatively large-eyed at one end or the eye is near the middle."

We don't know for sure whether these socks were for everyday use, worn with a pair of sandals to do the ancient Egyptian equivalent of running errands or heading to work—or if they were used as ceremonial offerings to the dead (they were found by burial grounds, after all).
For sandals? They look to me to have been made for someone (the ibis-headed god Thoth?) who had feet like a stork.