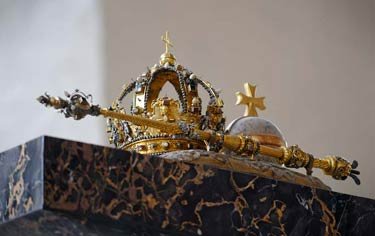 The tomb of 16th century Swedish Eric XIV was recently broken into and a set of funeral regalia stolen.
DN.SE (translated):
A scepter, a crown and an orb in the form of an apple were stolen from Erik XIV's tomb in VästerÃ¥s. The items are priceless funeral regalia from the 1500s. "I am outraged and shocked that it's such a deliberate crime." said cathedral chaplain Johan Sköld

A crypt in the church was shattered in Vasteras Cathedral on Friday morning leaving a gaping void in the high marble sarcophagus. Stolen was a unique set of regalia, which was linked to Erik XIV's half brother John III's funeral.

Funeral regalia, copies of the normal regalia worn by the Swedish kings, was used at royal funerals and placed in or on the casket.

"It's a loss for everyone, this is our common heritage. We work hard to improve security, but the objects must also be accessible to all. It is a difficult balancing act." said John Rothlind, chief curator at the Swedish Church in VästerÃ¥s.

Erik XIV was buried in Vasteras after his death in 1577 with little ceremony and without regalia.

Much later, his remains were moved to a more appropriate tomb.
Gustav III at that time arranged that a scepter and a crown of Uppsala, which might have been used in ceremonies at John III's funeral, were moved to VästerÃ¥s around the year 1800.

A second set of funeral regalia, in gold, which is also linked to Johan III's funeral, is still held in Uppsala.

The stolen set was made in the Netherlands in the 1500s, in gilt bronze with silver details. The apple, in gilded wood, was manufactured around 1800.

The three objects were in or on a ?träkudde?, also stolen, adorned with Vasa sheaves.

Additional sets of funeral regalia are in Straengnaes (Charles IX), Uppsala Cathedral (Gustav Vasa), the Royal Armoury in Stockholm (Karl X Gustav) and in Uppsala (John III's second set).