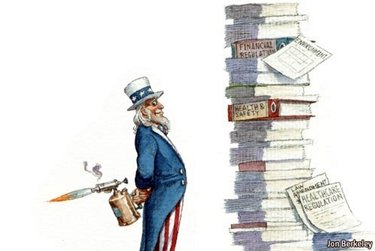 This article by Jonathan Turley puts the impact of the rise of the Progressive Administrative State into perspective.
For much of our nation's history, the federal government was quite small. In 1790, it had just 1,000 nonmilitary workers. In 1962, there were 2,515,000 federal employees. Today, we have 2,840,000 federal workers in 15 departments, 69 agencies and 383 nonmilitary sub-agencies.

This exponential growth has led to increasing power and independence for agencies. The shift of authority has been staggering. The fourth branch now has a larger practical impact on the lives of citizens than all the other branches combined.

The rise of the fourth branch has been at the expense of Congress's lawmaking authority. In fact, the vast majority of "laws" governing the United States are not passed by Congress but are issued as regulations, crafted largely by thousands of unnamed, unreachable bureaucrats. One study found that in 2007, Congress enacted 138 public laws, while federal agencies finalized 2,926 rules, including 61 major regulations.

This rulemaking comes with little accountability. It's often impossible to know, absent a major scandal, whom to blame for rules that are abusive or nonsensical. Of course, agencies owe their creation and underlying legal authority to Congress, and Congress holds the purse strings. But Capitol Hill's relatively small staff is incapable of exerting oversight on more than a small percentage of agency actions. And the threat of cutting funds is a blunt instrument to control a massive administrative state — like running a locomotive with an on/off switch.

The autonomy was magnified when the Supreme Court ruled in 1984 that agencies are entitled to heavy deference in their interpretations of laws. The court went even further this past week, ruling that agencies should get the same heavy deference in determining their own jurisdictions — a power that was previously believed to rest with Congress.
Read the whole thing.