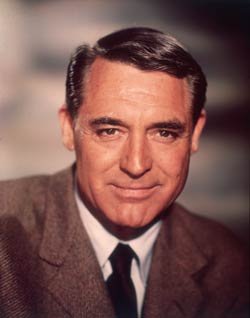 Cary Grant, perhaps the all-time leading exemplar of male charm.
The selection of the loutish Vince Vaughn to play a television role previously performed by James Garner provokes Benjamin Schwartz to contemplate the apparent near extinction in today's America of what he describes as an "amoral virtue," masculine charm.
[C]harm—with its emotional, even aesthetic, detachment—could hardly have retained its social sway after that most overwrought of decades, the 1960s. Any culture that celebrates youth necessarily provides stony soil for charm, which is by definition a quality reserved for adults: the young can be charming, which is an inadvertent attribute; they cannot have charm.
Most men hold charm in vague suspicion: few cultivate it; still fewer respond to it; hardly any know whether they have it; and almost none can identify it.

Of course, all of these social and cultural shifts, which are themselves inimical to charm, are rooted in a more basic change—the ever-widening infection of social relations by market values. That development, whether good or ill, indisputably makes for blunter and more crudely utilitarian manners. After all, in a way, charm is just small talk.

More important, charm, for all its appeal, isn't a moral virtue—it's an amoral one. Americans, especially American men, have always been, for some very good reasons, ambivalent about charm. It's an attribute alien to many men because they are ingenuous, a quality that can itself be either admirable or unlovely. Many American military men deserve our esteem; the many I have known indeed do, but I have never met one with an ounce of charm. Indeed, what American hero has possessed it? The quintessential modern American hero, the eternally jejune and earnest Charles Lindbergh, who became a god when not yet a man, was in every way the antithesis of charm. America's entire political history has been in some basic way a struggle between Jefferson—self-righteous, humorless, prickly, at once intellectually ardent and woolly—and Hamilton, a man foreign-born, witty, stylish, coolly brilliant, generous, possessed of a rare rapport with and an understanding of women. And just as Hamilton's political vision triumphed, so did Jefferson's political style. To be sure, we've always had sports heroes—Sonny Jurgensen, John McEnroe, Jim McMahon, Arnold Palmer—whose sly irony and authority-defining insouciance lends them the adolescent glamour of Peck's Bad Boy, a posture that, while sometimes winning, can be mislabeled as charm. (Its limits are clear in the persona of a non-sportsman exemplar, Bruce Willis.) Indeed, sports—youngsters' games pursued in earnest—essentially lack charm. The seriousness with which American men take sports both confirms and exacerbates their suspicion of charm.