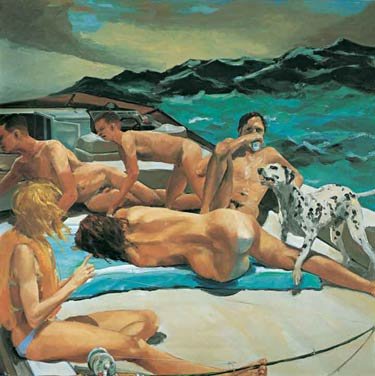 Eric Fischl, The Old Man's Boat and the Old Man's Dog, 1982
[T]he postmodern individual is the most conditioned and the most chained human type that ever existed in our recorded history. Not only a complete slave to any whim or impulse that presents itself as 'the next best thing', but also the perfect puppet to even the most gross and evident manipulation. Since he can mold himself into anything he 'wants', the postmodernist can, thus, also be molded, from the outside, into anything that the technocratic 'elites' of our days desire. He can be subjected to all manners of social engineering, without even the least possibility of resistance, for he can never discern between his desire and the desire of another — in the absence of any absolute, stable point of reference, external circumstances become the only considerations, and circumstances can always be easily manipulated. …

[T]he postmodern world is quickly losing all touch with even a minimally stable reality. Even seemingly rationalist types, with an apparently materialist and limited horizon, such as Richard Dawkins are no exception to this. Dawkins ridicules any mention of God, Spirit, Transcendence- everything vertical really- but has no problem in believing that there are no limits to our power on the horizontal plane, nor does he even doubt for a single moment the significance or quality of any new discovery or "zeitgeist".
Via Madame Scherzo.