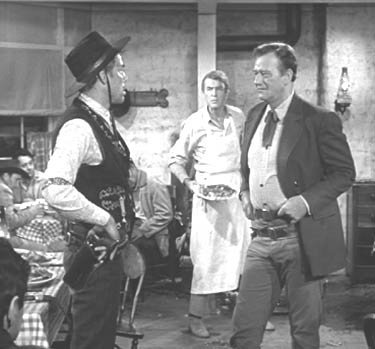 Today, in proper and enlightened jurisdictions, Tom Doniphon (John Wayne) could be prosecuted and convicted for failing to retreat from gunslinger Liberty Valence.
Stanley Fish, in the New York Times, tells us, once again, that the frontier has closed, and as Hollywood has testified, the old America of Gary Cooper and John Wayne, of rugged individualism and manly courage, is dead.
We are now a country more appropriately represented cinematically by Alan Alda, in which the feminine aversion to violence and dependence on the Leviathan State to handle our problems for us has triumphed. Personal honor, chivalry, and manhood are all obsolete concepts consigned without regret by our elite intelligentsia to the dust heap of History.
As civilization advances, and the law book replaces the gun… rationales for violence sound increasingly hollow, and more and more westerns are self-consciously elegiac — "High Noon," "The Gunfighter," "Ride the High Country," "The Magnificent Seven," "Lonely Are the Brave," "The Wild Bunch," "Monte Walsh," "The Big Country," "Butch Cassidy and the Sundance Kid," "The Man Who Shot Liberty Valance" — caressing the lonely figures at their center even as they say farewell to the values they embody. Outright satirical comedies like "Cat Ballou" (1965) and "Blazing Saddles" (1974) announce loudly and without nuance what the genre as a whole had already implicitly proclaimed: the reign of what Bosley Crowther (in a review of "Shane") called "legal killers under the frontier code" was over.

Stand Your Ground laws bring it all back. That is what President Obama meant when he said on Friday that such laws seem "designed in such a way that they encourage the kinds of altercations and confrontations … that we saw in the Florida case rather than defuse potential altercations." Do Stand Your Ground laws, he asked, really contribute to "the kind of peace and security and order that we'd like to see?" The answer is that not everyone wants to see them. There are some who imagine themselves as the modern-day Wyatt Earp or Will Kane or Shane — bravely seeking out malefactors, confronting them in the main street, and shooting them down to the applause and gratitude of less heroic citizens. Stand Your Ground laws are for them.
Hat tip to classmate Richard Smith.