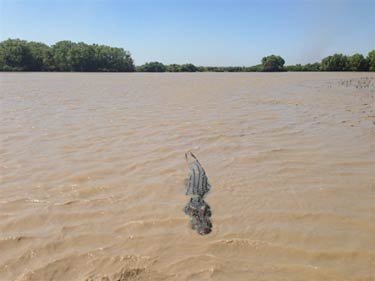 An Australian camper was missing and presumed dead after being snatched by a crocodile in front of onlookers as he swam across a river with a friend, police told local media Sunday.

The 24-year-old was swimming with a friend on Saturday afternoon near the Mary River Wilderness Retreat, about 80 miles east of Darwin in the country's Northern Territory.

The pair swam to the middle of the muddy river and were on their way back when the crocodile lunged, taking the victim below the surface, news site NT News reported.

Saltwater crocodiles, which can grow up to 23 feet long and weigh more than a tonne, are a common feature of Australia's tropical north, Agence France-Presse (AFP) reported.

The local man was celebrating a friend's 30th birthday at the outback tourist destination, Senior Sergeant Geoff Bahnert told The Associated Press.

"Several of the group in the party witnessed the male being taken in the jaws of the croc for a period of time, and then he was out of sight," Bahnert said.

"The Mary River is known worldwide to have the greatest saturation of adult saltwater crocodiles in the world. You don't swim in the Mary River," he said.

Alcohol may have played a part in the decision to swim, he said.