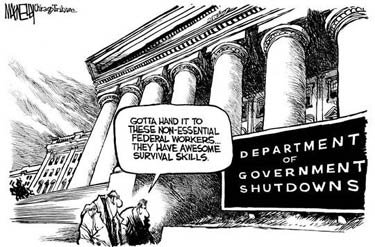 Matt Walsh puts it into the correct perspective.
The world has never seen an entity as expensive, inefficient and wasteful as the American government. Never. Today I've heard people lament that they are "ashamed" of their country because of the "shutdown." I think they ought to be more ashamed when the government is fully operational. The federal government is embarrassing on a historic scale. Our Founders fought to escape the crushing tyranny of the British crown. Do you think they envisioned establishing a new government that would soon dwarf, in size and scope, every other government in the history of mankind?
Read the whole thing.