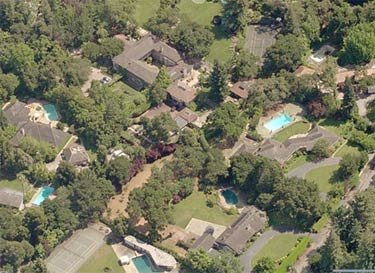 Atherton, Calfornia

Charlotte Allen, in the Weekly Standard, gives her readers a tour of the dystopian future represented by California's Silicon Valley where left-wing politics goes hand-in-hand with spectacular inequality. The Tech Company owner lives in Atherton or owns, as the saying goes, "his own hilltop in Portola, while the merely upper-middle-class pay $1,200,000 to live in the sort of despicable ranch house equivalent of what a mailman might own in New Jersey. But they both have Mexican illegals to mow their lawns and paint their fences.
"If you live here, you've made it," David Berkey said to me as I rode shotgun in his car two months ago through the Silicon Valley's wealth belt. The massive house toward which he was pointing belongs to Sergey Brin, cofounder of Google. With a net worth of $24 billion, Brin is Silicon Valley's third-richest denizen and the fourteenth-richest man in America, according to Forbes. Berkey was chauffeuring me down Atherton Avenue, a wide, straight, completely tree-lined boulevard nicely bifurcating the city of Atherton (population 7,200), located 29 miles south of San Francisco, boasting no commercial real estate, and with a zip code (94027) that was recently listed by Forbes as America's most expensive.

You couldn't really see Brin's house from the car, though—just a swatch of rooftop, maybe a chimney—because the point of the trees lining Atherton Avenue and nearly every other street in Atherton is to hide the dwellings behind them. Where the screens of trees happen to thin, property owners have constructed high hedges, high wooden fences, and high brick walls, so that when you look down Atherton Avenue from the Santa Cruz Mountains to the west toward the commuter railroad station to the east, you see only the allée of trees—pine, palms, eucalyptus, sycamore, and juniper—shades of gray-green and brown-green shimmering placidly in the early autumn sun. "This is the Champs-Élysées of Atherton," Berkey explained. The other thing we didn't see from Berkey's car is people, except for the occasional driver on the road. …

Berkey himself doesn't live in Atherton. He can't afford to. He's a research fellow at Stanford's Hoover Institution, and his wife, Eleanor Lacey, is general counsel at SurveyMonkey, which occupies Facebook's old startup quarters in downtown Palo Alto. That makes them part of what is known as the "middle class" of Silicon Valley: two-career couples with family incomes in the low-to-mid six-figure-range. They and their two daughters live in neighboring Menlo Park, in what is essentially a modest 1950s tract house, the kind of flat-roofed, three-bedroom, two-bath, sliding-glass-patio-door, under-2,000-square-foot residences, pleasant but not pretentious, that were built en masse well into the 1970s as cheap starter homes, because back then it was conceivable that there could be such a thing as a cheap starter home in the valley. Berkey says his own house is currently valued at $1.2 million.

That's par for the course. Open on any random day the Daily Post, the throwaway newspaper serving the mid-peninsula, and there will be a full-page ad for a "charming updated contemporary home" in Menlo Park or Palo Alto or Mountain View or Sunnyvale, with its single story, its gravel-topped roof, its living-room picture window, its teensy garden strip running alongside the jutting two-car garage that plugs into the kitchen, its pocket-size but grassy front lawn reminiscent of The Wonder Years—and its 1,216 square feet of living space—all "offered at $949,000." That's a bargain for the valley.

Berkey drove us out of Atherton, across El Camino Real, the peninsula's main commercial highway, and across the railroad tracks past the tiny Atherton station, now part of California's state-run Caltrain system and a commuter stop only on weekends. We were now in the featureless, nearly treeless, semi-industrial flatlands of Menlo Park stretching eastward to the bay. The demographic change was instant: ¡No se habla inglés! There were suddenly plenty of people on the sidewalks—and nearly every single one of them was Latino. There were suddenly plenty of commercial establishments—ramshackle, brightly painted, graffiti-adorned storefronts with hand-painted business signs mostly in Spanish: "Comida Nicaraguense," "Restaurante Guatemalteco," "Carnicería" (pork chops and steaks crudely painted on the walls), "Pescadería" (fish and crustaceans crudely painted on the walls), "Panadería," "Check Cashing," "Gonzalez Auto Sales," "Sanchez Jewelry," "Check Cashing," "Arturo's Shoe Repair," "99¢ and Over," "Check Cashing."

Menlo Park is actually only about 20 percent Hispanic and is unabashedly affluent in its own right, but its Hispanic population concentrated next door to the hedgy scrim of Atherton makes for a startling study in contrasts. No one pretends that the gravel-roofed, shack-size houses in this particular neighborhood are "charming" midcentury modern gems. That would be hard to do, what with the weeds, the peeling paint, the chain-link fences, the chained-up guard dogs, and the front lawns paved over to accommodate multiple vehicles for multiple dwellers. The phrase "the other side of the tracks" has vivid meaning. "Look at the newspaper police blotters, and you'll see that in Atherton the main reported crime is identity theft," said Berkey. "Here, it's break-ins."

You can laud this underbelly barrio as vibrant immigrant culture or you can decry it as an instant-slum product of untrammeled illegal border-crossing, but it represents an important fact on the ground: These are the people who earn their livings tending to the needs of the high-tech "creative class" that has made Silicon Valley famous. I could see them on Atherton Avenue, the amanuensis class heading up from Menlo Park in their wee panel trucks and Dodge minivans and their Ford flatbeds fitted out with racks for garden tools among the Bentleys, BMWs, Audis, and Lexuses that are the standard Atherton vehicles. They tend the meticulously clipped lawns, flower beds, hedges, and trees of Atherton (Berkey said that it's not uncommon for an Atherton sentence to begin, "My arborist .  .  . "). They clean the houses and the swimming pools, they deliver the catering, they watch the children, and they repair the roofs, the plumbing, the balconies, and the wine cellars of the very affluent and the very busy. You might say that across-the-tracks Menlo Park, along with down-market Latino neighborhoods just like it up and down the peninsula—East Palo Alto, parts of Redwood City, the southern end of San Jose—functions as a kind of oversize servants' wing. It's safe to say that almost every hotel maid, restaurant busboy, cashier, janitor, retail stocker, and fast-food worker in the valley is Latino.

Master and servant. Cornucopian wealth for a few tech oligarchs plus relatively steady but relatively low-paying work for their lucky retainers. No middle class, unless the top 5 percent U.S. income bracket counts as middle class. Silicon Valley is a tableau vivant of what many economists and professional futurologists say is the coming fate of America itself, a fate to which Americans, if they can't embrace it as some futurologists hope, should at least resign themselves.

While I was driving with Berkey around Atherton, Tyler Cowen, economics professor at George Mason University and author of The Great Stagnation (2011), published a new book, Average Is Over: Powering America Beyond the Age of the Great Stagnation. There, Cowen bluntly predicted what he called "wage polarization." The increasing ability of computers to perform ordinary tasks will inexorably transform America into an income oligarchy in which the top 15 percent of people—with skills "that are a complement to the computer"—will enjoy "cheery" labor-market prospects and soaring incomes, while the bottom 85 percent, that is to say, 267 million out of America's 315 million people, will be lucky to find Walmart-level jobs or scrape together marginal "freelance" livings running $25-a-pop errands for their betters via TaskRabbit (say, picking up and delivering a pair of designer shoes from Nordstrom) or renting out their spare bedrooms (if they have any) to overnight lodgers via Airbnb. That is, if they'll be working at all. "There are many other historical periods, including medieval times, where inequality is high, upward mobility is fairly low, and the social order is fairly stable, even if we as moderns find some aspects of that order objectionable," Cowen writes in his new book.

In other words, what is coming is the "new feudalism," a phrase coined by Chapman University urban studies professor Joel Kotkin, a prolific media presence whose New Geography website is an outlet for the trend's most vocal critics. "It's a weird Upstairs, Downstairs world in which there's the gentry, and the role for everybody else is to be their servants," Kotkin said in a telephone interview. "The agenda of the gentry is to force the working class to live in apartments for the rest of their lives and be serfs. But there's a weird cognitive dissonance. Everyone who says people ought to be living in apartments actually lives in gigantic houses or has multiple houses."

It's hard to travel anywhere in the valley and not see what Kotkin is talking about.
Read the whole thing.