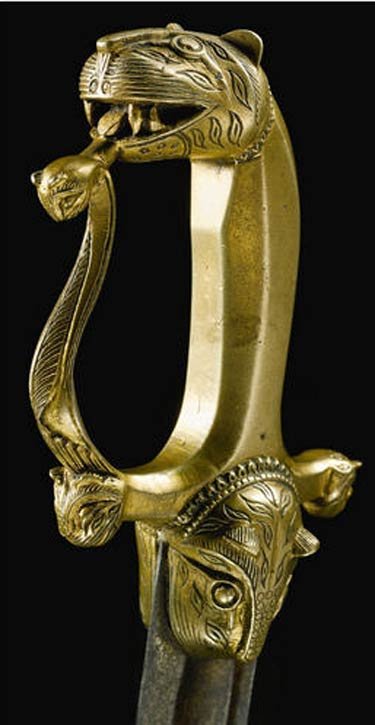 Maine Antique Digest runs a monthly Letter from London column which describes some of the more interesting items appearing in recent sales.
At Sotheby's "Art of Imperial India" sale, London, October 9th last, was sold a captured and re-hilted British sword decorated with the bubri symbol of Tipu Sahib, "the Tiger of Mysore," one of the most formidable enemies of British rule in India, slain finally defending his own fortress at the Siege of Seringapatam in 1799.
Tipu is quoted as saying: "Better to die like a soldier than live a miserable life dependent on the infidels… I would rather live two days as a tiger, than two hundred years as a sheep."
Interestingly, this sword was not taken at Seringapatnam, as it comes from the estate of Sir Charles Malet, Bart., who had left India a year before the siege. It was probably a trophy of the Third Anglo-Mysore War.
The sword sold for $157,695 (98,500 GBP). Lot 249.