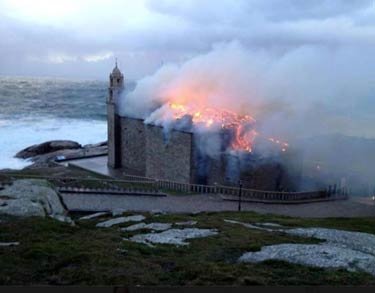 The Sanctuary of the Virgin of the Boat in Muxia, Galicia, one of the most important stops on the Pilgrimage to the Shrine of St. James of Campostella was destroyed yesterday, Christmas Day, by a fire which attacked the ancient church, built in the 12th century on the site of a previous Celtic pagan shrine, after lightning struck a transformer.
The fire raged for two hours, destroying in the process the original ceiling and main altar, and seriously damaging the dome, now in danger of collapse.
The region late remained pagan, and legend has it that St. James despaired of being able to convert the native population of Finisterre from their cult of worshipping the sun. The apostle came to the cove at Muxia to rest, whereupon a vision of the Virgin Mary "full of mystery and majesty" on a boat appeared to him, assuring him that his mission would be successful. Celtic stones were later interpreted as the petrified remains of the Virgin's boat.
ABC News story
Il Messagero (Italian)
.