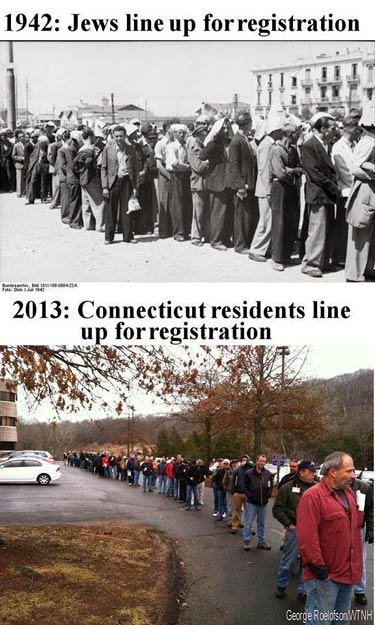 WFSB:
Hundreds of Connecticut residents lined up Monday to make sure their weapons will be legal in the new year.

The state's new gun laws are supposed to protect the families of Connecticut, but some said the laws are only causing problems for law abiding citizens.

People started lining up at the State Department of Public Safety in Middletown early Monday morning. The line wrapped around the building and people were registering up until the building closed at 4:30 p.m.

The controversial, wide-ranging gun control law was passed in Connecticut in April after the mass shooting inside Sandy Hook Elementary where 20 children and six adults lost their lives.

Now anything the state considers to be an assault weapon or magazine holding more than 10 rounds needs to be registered by Wednesday or it will be illegal in the new year.

If an assault weapon bought before April is not registered by Tuesday, owners will have to sell it to a gun dealer, render it permanently inoperable, or turn it in to law enforcement.

"If you get caught with a banned assault weapon after tomorrow night then you're going to be prosecuted as a felon," said Mike Lawlor, who is the governor's undersecretary for criminal justice.
I am so happy not to be living in that state anymore.