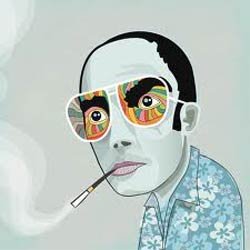 Patrick Non-White imagines the late Hunter S. Thompson's reaction to that notorious bed-wetter David Brooks' recent screed opposing the legalization of pot and arguing that government ought to "subtly tip the scale to favor temperate, prudent, self-governing citizenship" by sending out Gestapo teams armed with automatic weapons to break down doors and to nudge Americans in the direction of being better persons by throwing them into prison.
The silver 2001 BMW 535i roared through Adams Morgan, occasionally screeching over the sidewalks as my accountant wrenched both hands from the wheel for another toke at the weed-pipe. "Gadzooks, man!" I shouted. "Can you keep it together for another fifteen miles, or at least outside the District limits?" We were halfway through our 35 mile journey from Bethesda to Falls Church, with enough dangerous narcotics to stun a grizzly bear in the trunk: We'd started with nine ounces of weed, six rocks of crack, a sugar jar full of blow, 36 vicodin tablets, a cage filled with live Bolivian arrow toads, and two jars of ketamine. Plus two quarts of Beefeater gin, a case of Schlitz malt liquor, and a four ounce ball of Afghan hash: Surely enough to get this pair of degenerate drug addicts to Fall's Church. After that what man could say?

It was Edmund Burke, the English statesman and philosopher of the Good Life, who asked, "What is liberty without wisdom and without virtue?" In the Burkean ethos, freedom unconstrained by wisdom "is the greatest of all possible evils; for it is folly, vice, and madness, without tuition or restraint." I reflected that Burke's wisdom had never been constrained by a head full of mescaline, or a heart thumping on two tabs of amyl nitrate, so perhaps there were things the grand old man of the eighteenth century British polity did not know.
Read the whole thing and raise a central finger in the general direction of David Brooks.
Hat tip to Tom Maguire.