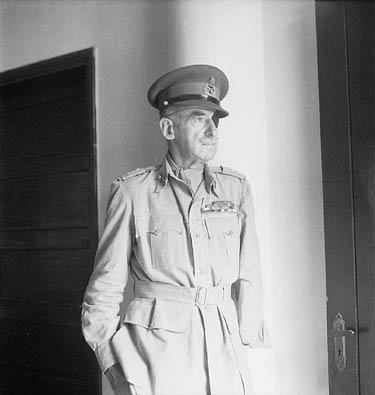 photograph by: Cecil Beaton
Sir Adrian Paul Ghislain Carton de Wiart VC, KBE, CB, CMG, DSO (5 May 1880 – 5 June 1963) was a British Army officer of Belgian and Irish descent. He served in the Boer War, First World War, and Second World War; was shot in the face, head, stomach, ankle, leg, hip, and ear; survived two plane crashes; tunnelled out of a POW camp; and bit off his own fingers when a doctor refused to amputate them. Describing his experiences in World War I, he wrote, "Frankly I had enjoyed the war." …

Carton de Wiart was thought to be a model for the character of Brigadier Ben Ritchie Hook in Evelyn Waugh's trilogy Sword of Honour. The Oxford Dictionary of National Biography described him thus: "With his black eyepatch and empty sleeve, Carton de Wiart looked like an elegant pirate, and became a figure of legend." …

Carton de Wiart was born into an aristocratic family in Brussels, on 5 May 1880, eldest son of Leon Constant Ghislain Carton de Wiart (1854–1915). By his contemporaries, he was widely believed to be an illegitimate son of the King of the Belgians, Leopold II. …

In 1891 his English stepmother sent him to a boarding school in England, the Roman Catholic Oratory School, founded by Cardinal John Henry Newman.

From there he went to Balliol College, Oxford, but left to join the British Army at the time of the Boer War around 1899, where he entered under the false name of "Trooper Carton", and claimed to be 25 years old.

Carton de Wiart was wounded in the stomach and groin in South Africa early on in the War and invalided home, and his father found out about him leaving college. His father was furious but allowed his son to remain in the army. After another brief period at Oxford, where Aubrey Herbert was among his friends, he was given a commission in the Second Imperial Light Horse. He saw action in South Africa again and on 14 September 1901 was given a regular commission as a second lieutenant in the 4th Dragoon Guards. Carton de Wiart was transferred to India in 1902. He enjoyed sports, especially shooting and pig sticking.

Carton de Wiart's serious wound in the Boer War instilled in him a strong desire for physical fitness and he ran, jogged, walked, and played sports on a regular basis. In male company he was 'a delightful character and must hold the world record for bad language.' …

By 1907, although Carton de Wiart had now served in the British Army for eight years, he had remained a Belgian subject. On 13 September, he took the oath of allegiance to Edward VII and was formally naturalised as a British subject.
He went on to fight in WWI, winning the Victoria Cross, and returned to active military service again in WWII, despite being over 60 years old. He retired to Ireland at age 71, where he subsequently devoted his energies to fishing for salmon and shooting snipe.
He is remembered, and his awards are pictured, at the Royal Dragoon Guards web-site.
Hat tip to Andrew Stuttaford.