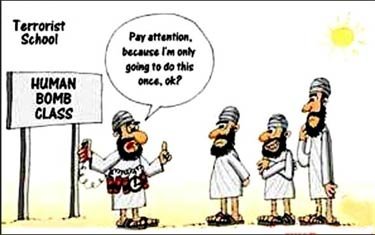 NYT story:
A group of Sunni militants attending a suicide bombing training class at a camp north of Baghdad were killed on Monday when their commander unwittingly conducted a demonstration with a belt that was packed with explosives, army and police officials said.

The militants belonged to a group known as the Islamic State of Iraq and Syria, or ISIS, which is fighting the Shiite-dominated army of the Iraqi government, mostly in Anbar Province. But they are also linked to bomb attacks elsewhere and other fighting that has thrown Iraq deeper into sectarian violence.

Twenty-two ISIS members were killed, and 15 were wounded, in the explosion at the camp, which is in a farming area in the northeastern province of Samara, according to the police and army officials.