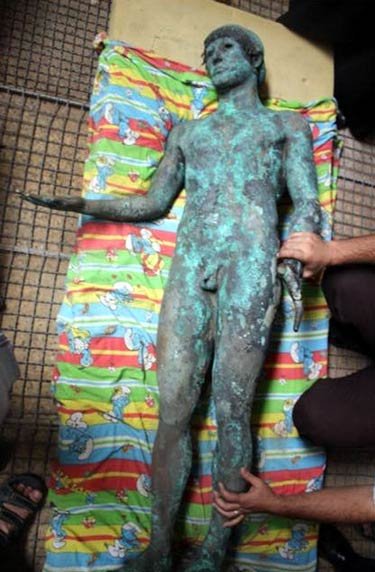 It seems that, either on land in Gaza or under the sea nearby, last summer, some ignorant and greedy barbarians came into possession of an unusually intact and highly artistically significant Hellenistic bronze statue of Apollo. Reports differ, but apparently the priceless statue was briefly being offered on Ebay for $500,000, probably only a fraction of its actual value. Its finder, we are told, chopped off a few fingers for testing, thinking that the statue might be gold. Police representing the Palestinian authority, Hamas, subsequently seized the statue, and it has disappeared.
We can only hope that the nearby civilized state of Israel will take steps to secure possession of this important art object on behalf of the rest of the nations of the West.
Businessweek, January 30th: The Apollo of Gaza: Hamas's Ancient Bronze Statue
The Guardian, February 10th: 'Priceless' bronze statue of Greek god Apollo found in Gaza Strip — Hamas officials seize statue after it appears on eBay — Doubt cast on fisherman's claim to have found item in sea
Businessweek, February 10th: New Details Emerge in Mystery of Bronze Apollo Held by Hamas
The Verge, February 11th: Ancient statue of Greek god Apollo discovered in Gaza strip
Hat tip to Karen L. Myers.